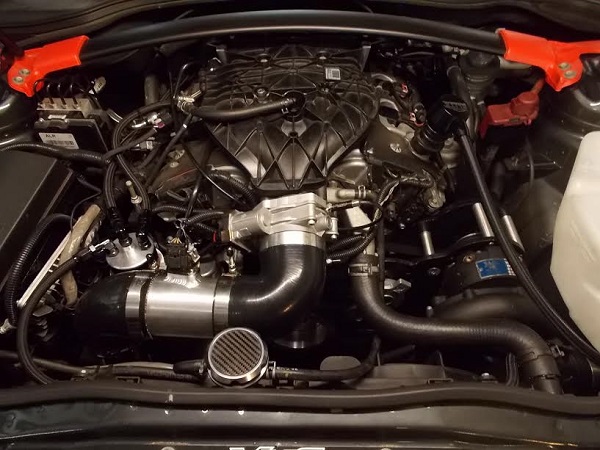 Welcome to the Overkill supercharger system for you 2010 to 2011 Camaro 3.6 V6. As GM V6 specialists, we see it as our job to take your V6 Camaro to new performance levels and and the Overkill supercharger system can be a game changer for your V6 Camaro.
It's a simple concept, put more air into the engine then it could naturally ingest, match it with the right fueling, and make more horsepower. On the LLT 3.6 V6 found in your 2010-2011 Camaro, this base kit will typically provide over 100 wheel horsepower gain on our base kits with 8psi of boost, providing power numbers of a modern V8 with a weekend's worth of work. Power can be improved well beyond the base kit with our Stage 2 and Stage 3 kits, and other modifications such as exhaust work.
This system is 100% bolt on installation you can do in a weekend. You are not required to have any other modifications on your vehicle. Every requirement to install a supercharger on your Camaro V6 is included in this kit, including going above the normal expectation with our catch can system to improve engine operation and lifespan, and our all inclusive tuning service.
All kits include the following components and features:
Vortech V3 head unit - Self contained oiling, Quick Change pulley system, CNC aluminum mounting system
Dedicated belt drive system - Uses its own belt, 8-rib wider belt for reduced belt slip, OEM style belt tensioner, aluminum slip fit into crankshaft pulley
Complete Air to Air Intercooler - Includes all charge pipes combining highest quality 5-ply silicone and bead rolled aluminum tubing, 50mm Blow Off Valve, large front mount heat exchanger
Overkill Tuning Service with HP Tuner Pro suite - Programs your engine and transmission computers with Overkill supercharged specific tuning. Includes a custom tuning service to dial in your car with your setup, all of which can be performed with your laptop and through email. You get the same HP Tuner Pro suite sold for $649 from major retailers (we are an authorized vendor for HP Tuners)
Tracy Lewis Signature Series Catch Can System - Effectively removes oil vapors, managed crankcase ventilation with blow-through supercharging, greatly improves engine life, designed specifically for our supercharger system!
Supporting Items such as a power steering reservoir relocation kit, windshield washer fluid reservoir relocation kit, colder spark plugs, a MAF conversion to the LFX 3.6 MAF with a new Hitachi OEM brand MAF, our CNC aluminum MAF sensor housing with airflow straightener screen and a plug and play wiring harness,and more.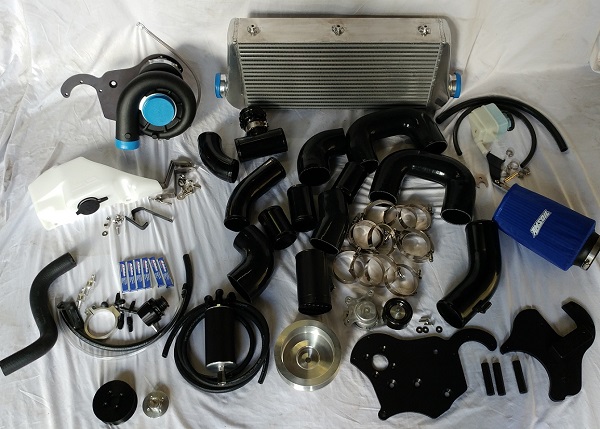 HP Tuners Pro
- This is a tuning suite that runs on a windows based laptop computer and connects your laptop to your vehicle with a cable. Overkill renders all the tuning for this supercharger kit, you're simply required to use the software to read and write the tunes to your vehicle, and provides scans, all of which is handled through email exchange. You do however have the ability to make your own adjustments, though it is recommended you do not alter our settings unless you have sufficient experience and knowledge to do so. This setup will require a back and forth transfer of files before you have your initial supercharger tune.
Stage 1 Kit Information
Our base kits come set up with 8-9psi of boost. They can be installed on a completely factory 3.6 V6 and see a 100 horsepower gain. You do not need any modifications on your vehicle to install Stage 1, comes with everything you need. Aftermarket exhaust work is beneficial but not required.
Stage 2 Kit Information
Our Stage 2 kit provides improved performance with more boost, and the required fuel system modifications to support it. A factory GM ZL1 fuel pump is a direct replacement to the factory V6 fuel pump and will provide sufficient fuel flow to the engine. The fuel tank must be dropped for installation, not difficult, but an advance installation for driveway installers. Once installed however, it's matched with a smaller supercharger pulley to increase boost to 10-11psi, providing a 30-40 horsepower additional gain over the base kit. Exhaust work is beneficial and recommended but not required.
$6149 for existing Overkill Tune Users, $6699 to purchase with Overkill Tuning and HP Tuners Pro Suite!

Optional but highly recommended is this wideband air/fuel meter kit. The purpose of this is to improve the quality of the Overkill tuning service. The wideband meter is an O2 sensor that's accurate to air/fuel readings while under heavy throttle, unlike the sensor GM uses on the Camaro. Simply install in the tailpipe, run the wiring into the cabin, plug the power into the outlet, and plug the sensor input into the HP Tuner cable or Autocal handheld. Overkill will now be able to read your air/fuel ratio coming out the tailpipe and adjust, just like a dyno quality tune. No permanent modifications to the vehicle, there is a deposit only to rent that's fully refundable when you send back the equipement in the fully functional and cosmetic condition you received it.
Deposit of $200 - Fully Refundable

This is an upgrade kit for those in search of improved performance over the base kit. The base kit will run roughly 8psi of boost and is 100% bolt on friendly. In order to run more boost, a fuel pump upgrade is required. This Stage 2 kit adds a bolt in GM fuel pump upgrade to allow you to run more boost and not run out of fuel. A smaller supercharger pulley will produce 10-11psi of boost, very simple. The pump will require dropping the fuel tank for installation, or cutting an access panel from inside the vehicle. You must install the pump to run the smaller pulley! Purchase the Stage 2 kit with the main drop down menu if purchasing with the supercharger kit, or come back later and use the purchase option below to upgrade your current Overkill kit to Stage 2, easy!
$299

Our supercharger system features our quick change pulley system, where our hub gets pressed onto the supercharger shaft and the pulleys bolt to the hub. This allows you to change out your pulley size with ease by undoing the 4 bolts and loosening the belt. Changing your pulley size changes the drive ratio of your supercharger, and this of course changes your boost pressure. We offer you the option to purchase different pulley sizes to suite your interests. Be sure to completely understand the requirements to run each different pulley size. All 3.1" and 2.95" pulleys come with a Gator Grip tooth pattern to the ribs on the pulley surface which helps the belt grip and further reduces the chance of slip.
$89 Per Pulley
Frequently Asked Questions
Q: What's a detailed list of what's included in this kit?
A: Kit includes the following items
Vortech V3 Supercharger custom made for us by Vortech
Modular Supercharger Pulley System - anodized aluminum hub and pulley, and stainless retaining bolts
Billet aluminum crank pulley, anodized
Mounting plates, anodized, CNC machined, stainless steel fasteners, anodized aluminum spacer tubes, OEM quality tensioner with oem quality idler pulley
Gates brand 8-rib belt, size varies depending on supercharger pulley
Silicone and aluminum intake hoses, 5-ply silicone, powdercoated and bead rolled aluminum tube, Amsoil nano-fibre air filter with hydrophobic prefilter sock, stainless steel band clamps
Silicone and aluminm intercooler charge pipes, 5-ply silicone couplers, powdercoated and bead rolled aluminum tubes, stainless steel T-Bolt clamps
All aluminum intercooler front mounted, fully welded, stainless steel thick gauge brackets, stainless steel fasteners, drill and tap combo to make holes for the brackets to secure
50mm blow off valve, stainless steel T-tube and flange, custom modified internal spring
Aluminum, anodized MAF housing with air straightener screen which sits in machined groove and is rivoted to secure in place
Washer Fluid Reservoir Relocation Kit includes OEM quality reservoir and pump, supporting brackets and stainless steel hardware.
Power Steering Reservoir Relocation Kit includes OEM quality reservoir, oil transfer rated hose, top quality aluminum and brass fittings and stainless steel clamps
3-bar MAP sensor reads boost up to 30psi
Colder AC Delco spark plugs suited for boost
Catch Can System uses 2-way suction valve technology and patent pending internal canister design, all aluminum design
Overkill Tuning service allows custom tuning for your vehicle and revisions with driving scans through email, available with Autocal handheld custom modified to accept wideband input, or HPTuners Pro suite with wideband input ports
Can I use my existing catch can, why is yours special?
A: We include our catch can system and require you to use it for your own benefit. The internal canister uses a highly effective, patent pending design, however the set up of the system is vital for supercharger use. While most systems just tie into the manifold (dirty) side of the PCV system, ours tie into both the clean and dirty side. While most systems will become completely ineffective when the intake manifold is pressurized with boost, ours closes via a check valve and uses the suction source from the supercharger inlet to continue to evacuate the crankcase. And as a triple backup, our kit uses a clean side separator, which separates oil vapours if the pressure needs to evacuate out the clean side tube for any reason. All of these important features will prevent oil from getting into your supercharger, your intercooler, and into the engine air stream.
What power gains can be realistic to expect?
A: Factory horsepower on a dynojet is typically around 260 wheel horsepower (measured at the wheels). Our base kit is set up to produce 8psi of boost at peak. You can anticipate your kit making around 360-370 wheel horsepower with no other modifications to the vehicle, and upwards of 400 wheel horsepower with additional exhaust and intake manifold modifications. Stage 2 with 10-11psi of boost aims to add roughly 40 horsepower over these figures, so anticipate up to 440 wheel horsepower with recommended aftermarket exhaust modifications. We will work on additional supporting modifications to bring power increases upwards of 500 wheel horsepower with reliable results.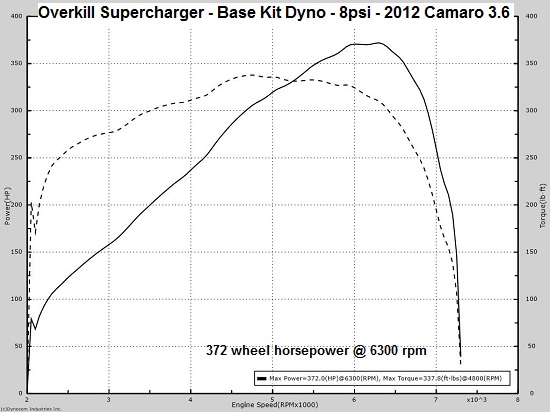 Want to see what the installation is like? Click here for PDFinstallation instructions

Independent Belt System
One of the things we wanted to ensure as part of our design was an independent supercharger belt system. Rather than using the factory OEM accessory belt, our system uses its own supercharger belt and leaves the factory belt completely intact.
We do this by first installing our new crankshaft pulley. Removing the crankshaft bolt allows you to slide the new pulley as an insert into the factory pulley, and then secure with the bolt. The new pulley indexes into the spokes of the OEM pulley so it is locked into place and cannot slip.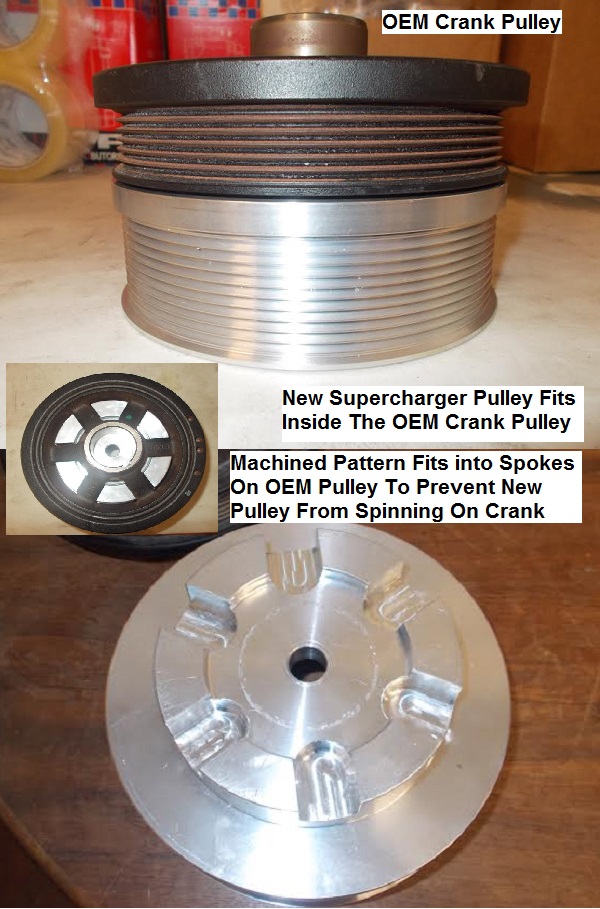 The supercharger is spaced appropriately not just for its own belt but for an 8-rib belt. Rather than using the 6-rib factory belt, a wider 8-rib belt will reduce belt slip issues as we start to get smaller and smaller on the pulleys. We can do this because we are not limited using the OEM accessory belt, this can only be accomplished with a dedicated supercharger belt.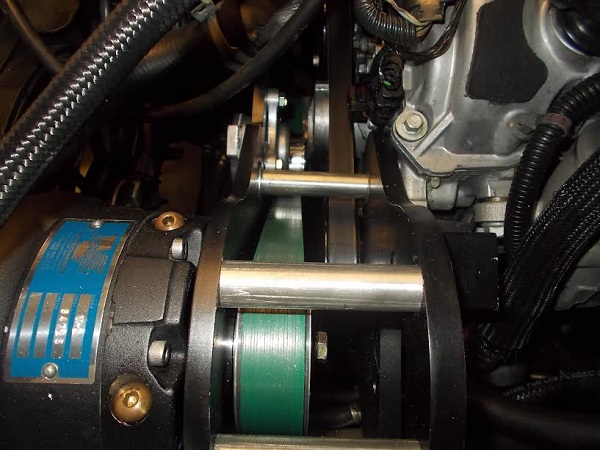 Quick Change Pulley System
We have developed a quick change pulley system for the Vortech supercharger. This means we can run our own pulley sizes and is part of the 8-rib conversion. It also means you can change your pulley sizes very easily. Due to the spacing built into our system mounting plates and the new supercharger positioning, you can access and change the supercharger pulley in a matter of minutes, simply by removing the 4 retaining screws and removing the belt. In smaller pulley sizes, we have a Gator Grip tooth pattern to the ribs of the pulley that will provide the belt additional grip on the pulley but not wear out the belt prematurely.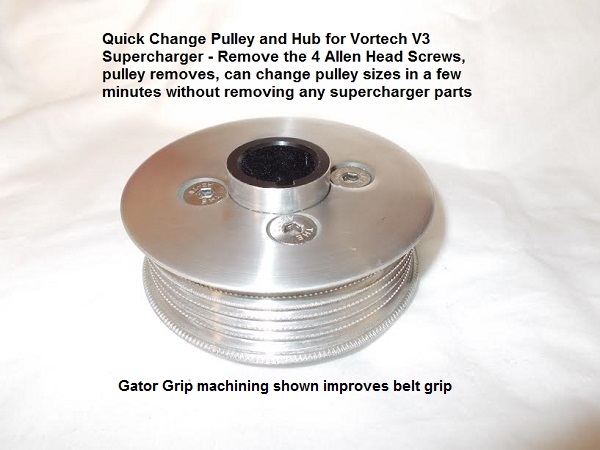 Front Mount Intercooler
One item that we decided to include standard rather than have as an upgrade is the intercooler. It is important to understand that all intercoolers are a flow restriction to some extent, and their size plays an important role in cooling and flow capabilities.
Our air to air intercooler uses a 24 inch long core (side to side) and 4 inch deep. This is longer and thicker than what used to be the standard for a Camaro supercharger kit. The longer the airflow stays in the heat exchanger, the better the cooling. The extra thickness provides larger air passages which improves flow capability, which will make the supercharger boost more efficient at reaching the engine. This core fits with only minor trimming of some of the plastic shroud around the radiator.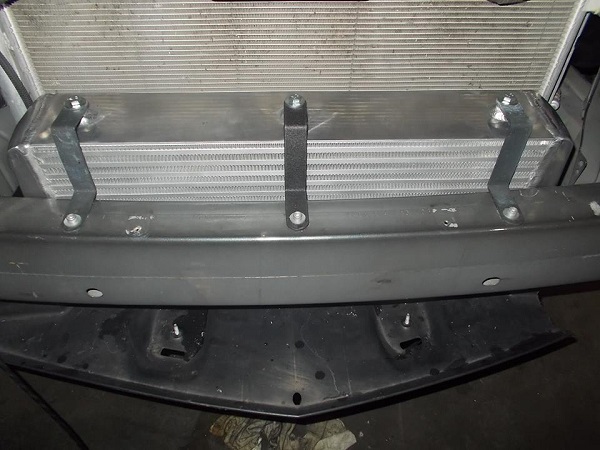 Supercharger Specific Catch Can System
Our Catch Can System included with each supercharger system is set up specifically to perform with forced induction. Unlike a generic catch-can which connects between the intake manifold and engine on the "dirty side" of the PCV system only, ours connects to both sides of the PCV and provides two suction sources for the dirty side crankcase. When the intake manifold becomes pressurized, the catch can looses suction from the manifold, and the crankcase can become pressurized with boost pressure; our catch can uses a check valve to close and prevent boost from pressurizing the catch can, and a secondary suction line connected right before the supercharger inlet actually uses the vacuum created by the supercharger to continue to draw air from the crankcase. As an extra backup, a clean side separator attached to the oil filler cap separates and prevents oil vapors flowing down the clean side line into the intake path. The entire system means that oil will stay out of the supercharger inlet, out of the intake manifold, out of the intercooler, and reduces blowby at the piston rings, all of which improves engine safety, supercharger lifespan, and overall performance.