Welcome to the GM Lambda plaform crossover product page encompassing 2007-2016 Acadia, Enclave, Outlook and Traverse SUVs. In order to help you find Overkill products for your big crossover, I've now put everything here on one page. Please look carefully if a product is specified for certain model years or engine choices as there were several options but I offer multiple products for all. You'll find Overkill computer tuning for EVERY year, larger throttle bodies and flex fuel options. Scroll to the bottom to see what products are recommended in what order for your vehicle!
.


Overkill has specialized in tuning the GM 3.6 family of engines for well over a decade and owned 3 different GM 3.6 vehicles along the way. Whether you have the first generation of port injection LY7 or the latest generation of direct injection, Overkill has the right tuning for your vehicle and your engine.
For the Lambda crossover's, I've focused on providing a solid 87 octane tune, since so many owners request to continue to run regular fuel but see the performance benefits from Overkill tuning. Even with 87 octane, you'll appreciate the acceleration improvement, and revised transmission programming.
What you'll notice:
Dyno horsepower gains of 14whp on 87 octane, 20+ on 91 octane or 30+ on E85 (with Overkill flex fuel conversion kit)
Smoother power delivery and stronger mid-range torque, less peaky feeling to the power delivery
Improved 2012+ throttle control, more responsive and a consistent feel
Fully rewritten transmission shift points will downshift with less throttle input, upshift at better times, reduce bogging around town, and make the vehicle feel lighter and easier to drive
Speed limiter removed, rev limiter raised, cooling fans turn on sooner
Tuning to accommodate for aftermarket air intakes, throttle bodies, E85 flex fuel conversions (where applicable), exhaust work and more.
What you'll get:
HP Tuner tuning suite
Overkill tunes for 87 octane, 91 and 93/94 octane.
Tuning revisions when you send in driving scans, so the tune can be tailored for your vehicle

HP Tuners
– HP Tuners works on all model years. It requires a windows based laptop computer or tablet with USB port to interface with the vehicle inside the vehicle. You'll use the software to read the factory tuning and upload Overkill tuning, along with take driving scans. Overkill tuning can support all our modifications.



Fits 2012-2016 models (2017 Traverse/Enclave).
If you have access to E85 ethanol fuel, strongly consider doing this flex fuel conversion kit! Overkill tuning with E85 ethanol will create a significant boost in torque out of this 3.6, exactly what you're looking for. The conversion kit connects inline to the fuel system at the engine, plugs into the computer harness and is activated with Overkill tuning. Once installed you can fill up with E85 ethanol or switch back and forth to gasoline without requiring any tuning changes (flex fuel operation). E85 provides a 15-20 horsepower gain over 91/93 octane gasoline, up to 30 over 87 octane, and a big improvement in low-mid rpm torque.


Overkill has exclusively developed larger throttle bodies for the GM 3.6 engine family. Depending on the year of your CTS, you'll receive one of two different options to upgrade the small 72mm factory throttle body to a larger unit. These provide improved higher rpm horsepower, up to 11 wheel horsepower gain has been seen, and the main improvement is better throttle response.
2007-2011 models (all engines)
will receive a 76mm throttle body. This is a brand new unit and a direct bolt on replacement with the original gasket and fasteners. The factory intake tube can be stretched over the larger throttle body.
2012 and newer models
will receive an 80mm throttle body. This is a brand new unit that will come with an adapter plate to bolt on to the intake manifold. A larger coupling will be required to fit to the intake tube.
2012 and newer only - Add Air Intake
2012+ owners, you can optionally purchase an air intake system that will convert to a larger MAF sensor and open cone air filter, a combo combined with the 80mm worth a dyno tested 13 wheel horsepower. Overkill is required, you cannot run on the factory tuning, I must retune for the larger MAF sensor, but this is a great combo to do with tuning for easy performance gains!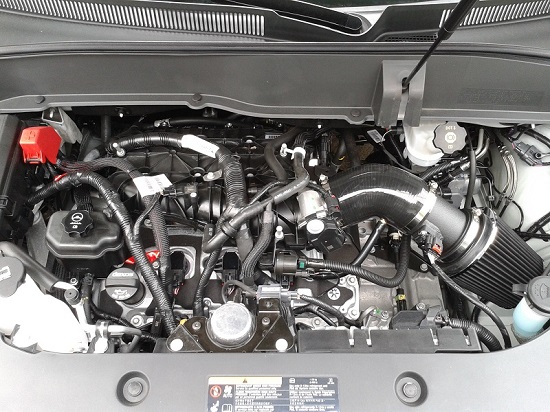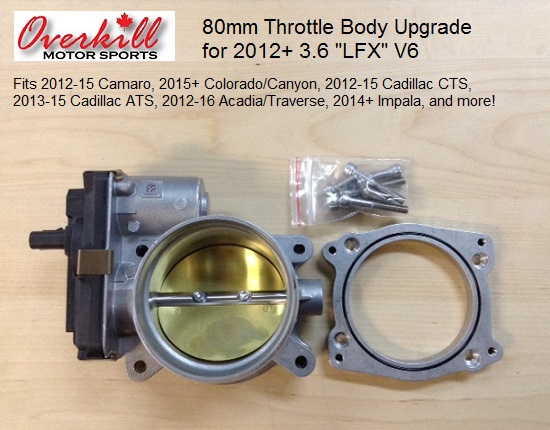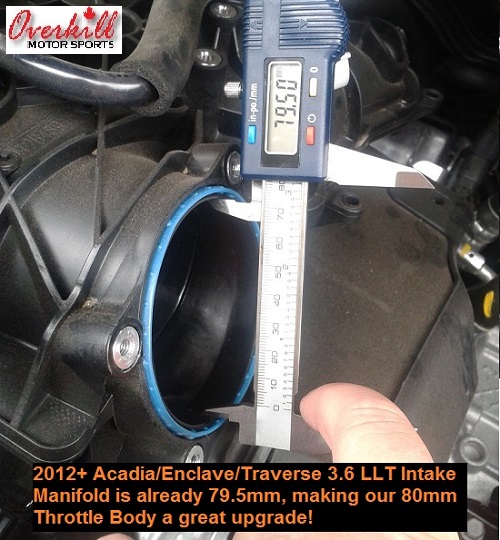 JacFab's intake manifold spacer is ideal for these crossovers. In testing, this spacer increases mid-range torque by increasing the intake runner length and adding air volume to the intake manifold. Originally developed for the Camaro 3.6 platform, this spacer kit works great on this crossover platform and is a highly recommended modification at any stage.

BACK TO PRODUCT LISTINGS