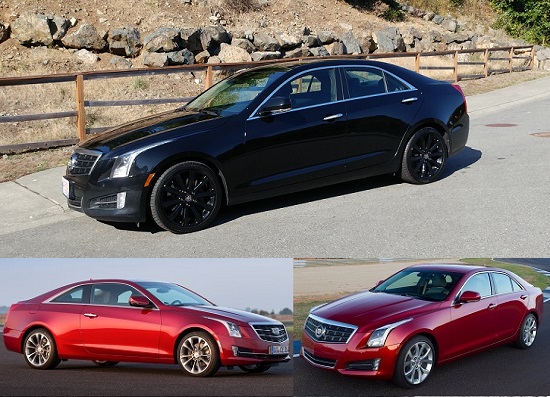 Overkill's own personal 2013 ATS 3.6 pictured above, trust the 3.6 guru that owns the same vehicle you do!


Overkill Tuning - Provides the biggest bang for your buck, more power, much improved transmission shifting, fixes the rough idle in 13-15 models, and will support new modifications as you add them so it's not a one and done deal
E85/Flex Fuel - Running the Overkill E85 tune over Overkill 93 octane tune is worth a dyno tested 16 wheel horsepower improvement. If you have E85 ethanol stations in your area, 2013s are often flex fuel enabled from factory, check your owners manual. For 2014-15, we offer a flex fuel retrofit kit that works with Overkill tuning. Nothing for 2016-19 though, sorry!
Intake system - Air intake systems are available from several companies, though I would save your money, drill your lower air housing to allow more air to enter, and replace the panel filter with a K&N filter if you desire. Changing to a larger 3.5" diameter intake would be worthwhile, but will require tuning and I suggest doing this with the 80mm throttle body/manifold below
Overkill 80mm Throttle Body and Ported Intake Manifold - These go hand in hand together. The Overkill 80mm replaces the little 72mm factory throttle body. The ported manifold opens up the manifold inlet to 80mm and fills in a turbulent entrance cavity to improve flow. Together they add up to 20 wheel horsepower. Now is when you should look to upgrade the size of your intake tubing as well, the factory tube won't fit the 80mm opening.
Downpipes - Aftermarket downpipes are now available for the 6th gen Camaro (same chassis as ATS) and its confirmed they fit the rear wheel drive models (not sure yet on AWD). Offroad versions will need tuning but even the catted versions will eliminate the 4 factory cat converters with 2 high flow units. https://americanracingheaders.com/collections/camaro-modern/products/camaro-v6-down-pipes-gen-6
High Stall Torque Converter - This mod is ambiguous on where it fits on the modpath. If you want to drop nearly a full second from your 0-60mph time and launch hard from a standstill, a high stall torque converter is one of the best mods for the 3.6, which is a high rpm motor. It's a significant install but worthwhile. Overkill tuning is recommended before doing the torque converter. Available for both 6-speed and 8-speed from Tracy Lewis Performance
Overkill Supercharger!!! - Of course if you want to make your ATS a real rocket, supercharging is the way to do this. Overkill has been supercharging and adding 200 wheel horsepower to the 3.6 engine for 3+ years now, and personally purchased an ATS to develop its specific kit. Check out the supercharger product page at this link http://www.getoverkilled.ca/atssupercharger.html











Overkill is proudly a premier tuner for the GM 3.6 V6 family of engines. I not only tune and modify but I've personally owned several 3.6s including the black ATS you see above, and I love that GM packed this light little car with a healthy V6 powerplant to make it quick and fun to drive. With specialized 3.6 products available from Overkill, choose the tuning that will support them, from E85 to larger throttle bodies to forced induction! Even if you do nothing except the tuning, you'll appreciate the Overkill improvement to how your ATS performs and drives.

What you'll notice:

You'll receive our Overkill 87, 91 and 93 octane tunes, with Overkill E85 Ethanol tuning if flex fuel enabled
Horsepower gains of 15-22 horsepower at the wheels depending on modifications, 30+ for E85
Smoother power delivery, harder acceleration from launch
Improved transmission shift patterns in touring and sport mode, firmer WOT shifts
Tuning support for your other aftermarket modifications including intake, exhaust, our 3.5" MAF and 80mm throttle body
Custom tuning revisions when you send driving scans and complimentary updates for future modifications


What youíll get:

Your choice of tune delivery handheld or tuning suite
Overkill tunes for 87 octane, 91 and 93/94 octane.
Tuning revisions when you send in driving scans, so the tune can be tailored for your vehicle


Technically speaking, the changes are significant. A full rework of the timing tables from 1400rpm on up at all throttle positions for several different gasoline octanes, revised performance fuel targets, revised torque modeling (throttle control) in both touring and sport mode, revised variable valve timing positions, a full revision of the upshift/downshift shift patterns in both touring and sport modes, reduced torque management intervention, speed limiter removed, rev limiters raised. Significant areas of improvement are made to the tuning along with revisions for specific modifications such as MAF tables for aftermarket intakes, diagnostics for exhaust work, extensive revisions for forced induction such as supercharger or turbochargers.

Why get an Overkill tune versus the competition?

Specialized in the GM Direct Injection V6 motors. From revised cam phasing, fully reconstructing spark timing tables and fully revised throttle calibration, an Overkill tune is more comprehensive than what you'll get at your local dyno shop, or a do-all tuning provider.
Datalogging. You'll get your Overkill tunes but it doesn't stop there. You can scan with our handheld while driving and send that data for review and tune updates, to get a tune that's more customized for your vehicle
Support for your mods. Not only are we the only company with an E85 Flex Fuel conversion kit or a larger 80mm throttle body kit, but we also have the right tuning to ensure you get the most from them!
Retunes. With our handheld, retuning for your future modifications is complimentary and easy to provide

HP Tuners
Ė HP Tuners works on all model years. It requires a windows based laptop computer or tablet with USB port to interface with the vehicle inside the vehicle. Youíll use the software to read the factory tuning and upload Overkill tuning, along with take driving scans. Overkill tuning can support all our modifications including the supercharger systems and including 2017+ transmission support through HP Tuners.
EFI Live Autocal
Ė Autocal works on all model years. Youíll need a windows based personal computer with usb port to transfer files to and from the Autocal however the Autocal works autonomously within the vehicle so you donít need anything but the handheld to read or write tunes or do a driving scan. 2017+ owners can receive engine tunes through Autocal. Given that easier use in the vehicle and the lower pricepoint, itís a popular option.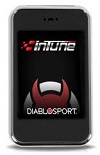 If you have a 2013-2015 ATS and already have a Diablosport device for tuning, I can provide Overkill tuning for Diablosport. Overkill tune files are provided through email which can then be uploaded to your Diablo device and flashed into your ATS just like the Diablo preloaded tunes. Purchase price will include several Overkill tunes plus tune revisions based on your driving scans. Keep in mind that Overkill cannot tune for bigger modifications like camshafts, superchargers etc but for basic bolt on modifications, no problem through Diablosport's custom tuning suite! Once purchased, you'll need to pull off the "backup" and "last tune written" files off of your Diablosport device's drive and email them to willoverkill@gmail.com.






This kit fits 2014-2015 models which don't have flex fuel capability already!

Running E85 ethanol is worth a legitimate 10-15 horsepower gain over high octane gasoline. This flex fuel retrofit kit gives your ATS the ability to run either gasoline, E85 ethanol or any mixture of and the computer will self adjust. Overkill tuning, or custom tuning to turn on the sensor, is required. For some strange reason, GM had flex fuel on 2013 models but they discontinued E85 ethanol capability for 2014-15, so here's the Overkill retrofit kit which will add it back!










The only larger throttle body for the 2012+ 3.6 is developed at Overkill. The factory throttle body is 72mm; our 80mm throttle body solution dwarfs the stock unit and will allow the your engine to breathe, improving horsepower, improving throttle response (particularly with Overkill tuning) and changes the intake note of the V6 to a deeper growl at heavy throttle.

Uses brand new parts, comes with an aluminum adapter plate, stainless steel bolts and some parts to assist installation. Works best with tuning and when used with a ported intake manifold. Note: this throttle body has a 3.5" clamping area, compared to the factory throttle body of 3". Ensure you have a solution available before installing the throttle body, your current intake system tubing may not fit!

Optionally add a ported intake manifold. Our 2016+ LGX ported intake manifold enlarges the opening to 80mm to match the adapter plate, which becomes a permanent pairing; for this reason, only a brand new manifold is used and you do not need to send in your factory manifold! For 2013-15, we tap our good friends at JacFab for one of their epoxy filled and ported intake manifolds, based again off of a brand new GM manifold. Gains of 20-25 horsepower can be found. Manifolds are made to order, please allow roughly 2 weeks for these manifolds to be made .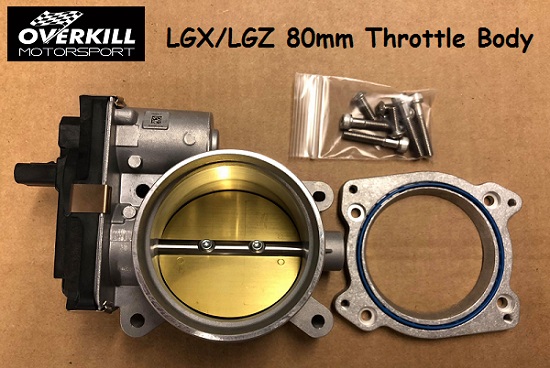 The Overkill Supercharger kit for the ATS is so awesome that it needs its own product page. Add 200 horsepower or more to the LFX or LGX 3.6 engine with a weekend bolt on solution. Follow this link http://www.getoverkilled.ca/atssupercharger.html or click on the pictures below to go to the ATS Supercharger page for full information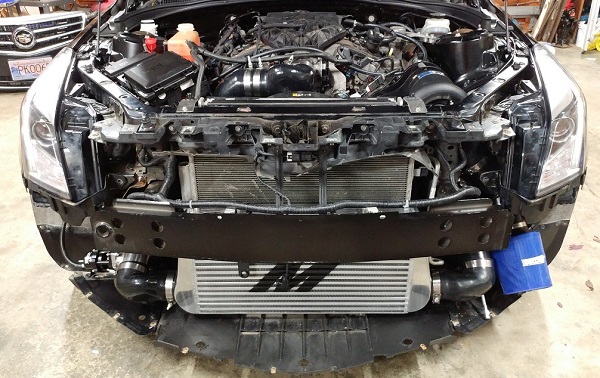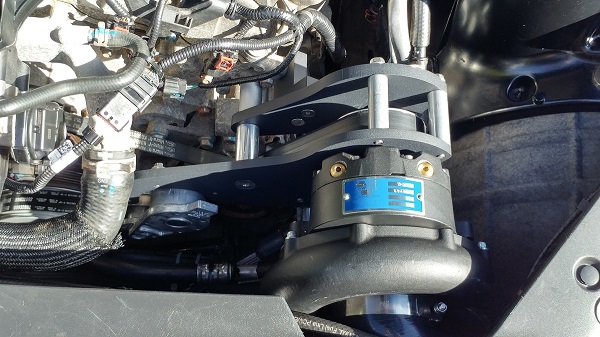 BACK TO PRODUCT LISTINGS