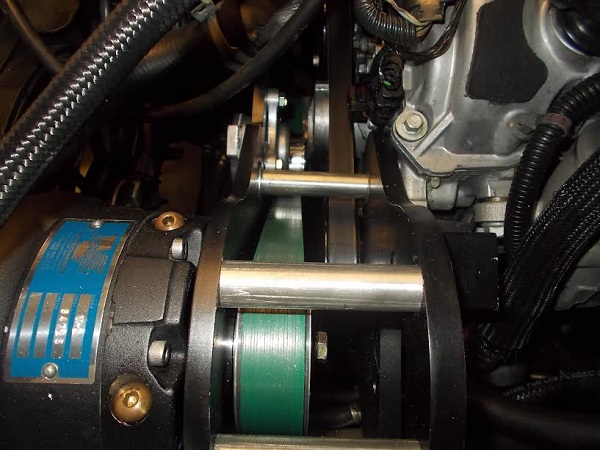 For those that have the discontinued IPF Supercharger system on your 2010-15 Camaro V6, we offer you the ability to upgrade to the design features and benefits of the Overkill supercharger system, including its independent belt drive system.
Stage 1 Retrofit Kit - $1849
This kit includes:
Billet aluminum crank pulley
CNC and anodized mounting plate system
Tensioner system with 8-rib Gates brand belt
Quick Change supercharger pulley system with hub and your choice of pulley size
Power Steering Relocation system
Supporting items such as a new silicone coupler off of the supercharger inlet, new OEM accessory belt and a few bolts to reinstall in case you didn't keep these OEM parts.
This kit will install the Overkill mounting system and 8-rib independent drive belt, replacing your old IPF plate system. Enjoy the reduced belt slip of an independent 8-rib belt driving the supercharger, and eliminate the common failure idler pulleys as well. This gives you everything you need to make a significant hardware change to your supercharger setup to improve its performance and reliability, but will not require any retuning. It will retain the IPF MAF location and bypass valve setup, and require no tuning.
You'll need to select what supercharger pulley you want to receive. The 3.6" is our base pulley and will provide 8-9psi. The 3.4" and 3.25" pulleys will provide more boost, but will require a ZL1 fuel pump upgrade. 3.1" and 2.95" pulleys will require supplimental fuel systems.
Stage 2 Retrofit Kit - $3099 and up
This kit includes:
All of Stage 1 components
Overkill Tuning with Autocal Handheld or HP Tuners Pro
Supercharger specific 2-valve Catch Can System
Blow Through MAF Housing, 50mm Blowoff valve, plug for existing bypass valve, silicone couplers and T-Bolt clamps
New intake tube and Amsoil air filter
This kit includes all of the above Stage 1 kit but adds tuning and additional revisions to change to the Overkill design. Your MAF is changed to our blow through MAF sensor with an 50mm blow off valve; this improves the consistency of the MAF readings at higher boost pressures, allows monitoring after-intercooler intake temperatures, and provides the great sound of a blow off valve that everyone wants with a system like this. For LLT kits, we include a switch to the LFX MAF sensor with a new MAF and a plug in wiring adapter. This Stage also includes Overkill tuning with your choice of Autocal or HP Tuners Pro for LFX and HP Tuners Pro for LLT. Additionally, your switched from the crude oil collection reservoir to a proper catch can system that will provide crankcase evacuation even under boost, providing significant improvement in the life expectancy of your engine while supercharged! This package is highly recommended if you're looking for improve reliability and tuning support.
Stage 3 Retrofit Kit - $3399 and up
This kit includes:
All of Stage 1 and 2 components
Larger 4" thick intercooler
This kit includes all of the above Stage 1 and 2 components and adds our larger front mounted intercooler. The IPF intercooler has an 18x12x3" core, while the Overkill intercooler has a 25x12x4" core. The interior volume of the intercooler grows by 85% while the flow capacity improves by 33%. The end result is cooler boost temperatures post-intercooler and less boost pressure drop at the inlet of the intercooler due to more flow through the intercooler. This will retrofit into your IPF silicone pipes with a few simple cuts to length, and we include our mounting brackets with stainless steel hardware. This is the ultimate retrofit package and will bring your current system up to performance of the Overkill supercharger system.
2010-2011 Owners, use this payment button below
2012-15 Owners, use this payment button below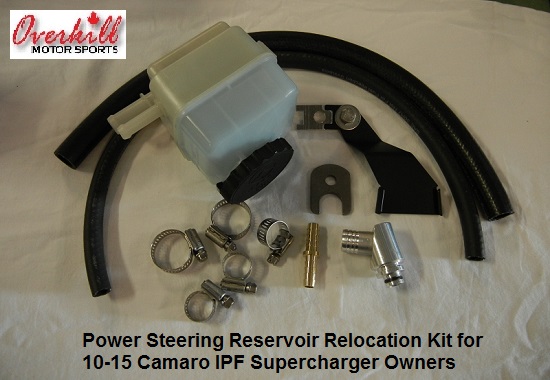 When not purchasing a full retrofit kit, you can still purchase our power steering relocation kit. The old supercharger kits are notorious for steering pumps that whine and fluid leaks. Our extremely high quality kit relocates a new power steering reservoir up by the brake booster, out of the way of the supercharger system. The large gravity feed line supplies the pump without restriction. High quality hoses and fittings provide no leaks. Accessible with a strut tower bar in place.
$179