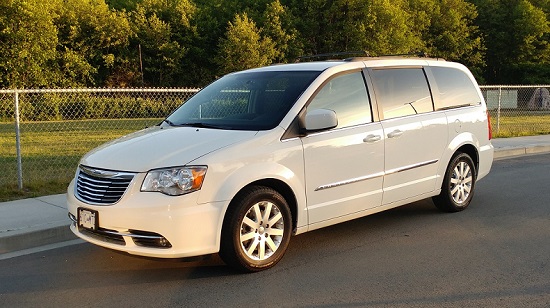 Overkill's own personal 2013 Town and Country pictured above, trust the Pentastar tuning guru that owns the vehicle you do!




Overkill was one of the original tuning outfits for the Chrysler 3.6 engine and I tune dozens every month. Your minivan can benefit from Overkill tuning, just as well as any Charger or Challenger! For the vans, I focused on the 87 octane Overkill tune to provide the best performance gains without paying for premium gasoline, however you can also get exception performance with Overkill E85 ethanol tuning as most 2011+ Grand Caravans are flex fuel capable. Gain 15-20 horsepower on 87 octane, 30+ on E85 ethanol along with noticable torque improvements to go up inclines with a fully loaded cargo or passenger compartment, or towing a trainer. Improved transmission life and improved shifting performance! Cooler running engine and transmission, improved throttle control, horsepower and torque gains, all available with Overkil tuning!
Highlighted Features/Benefits:
Gains of 15+ Horsepower on 87 octane tune, 30+ on E85 ethanol
Improved torque, especially on E85, for climbing hills or towing
Cooler running engine and transmission, fans revised from factory 230*F to 212*F, programming available for RIPP 180*F thermostat
Tune purchase includes 87 octane, 91/93 octane and E85 ethanol tuning (if available) plus custom tuning based on scans for your vehicle
Improved transmission performance and life expectancy!
Fuel mileage potential is improved (up to 3MPG improvements reported)
Reprogramming available for other custom modifications including our fuel injectors below, 180* thermostat, intake systems and more.
Improved Transmission Performance and Life Expectancy!
Everyone complains about the transmission shifting and the short transmission life in these Chrysler vans, and don't touch that Eco button! Part of the issue is the early upshifting to higher gears and reluctance to downshift back to lower gains, causing the transmission to drag the van along at low engine rpms; this puts strain on the torque converter in particular, which has a high failure rate in the 62TE transmission, and it ruines the performance of the vehicle. Overkill tuning remaps the throttle controls and affects the transmission shift pattern, so not only will the transmission hold the gears longer during normal acceleration, it will also downshift much easier around town, on inclines and on the highway to pass a slower moving vehicle, without bogging down and straining the transmission in a high gear. It also corrects the jack rabbit throttle response, making the van easier to drive and accelerate smoothly. Once you get used to the new throttle pedal feel, it will feel natural and the benefits are significant.

HP Tuners Suite:
Tuning for your Caravan is provided through the HP Tuner's suite. This tuning suite requires you to have a laptop or tablet running Windows. You'll be required to read and write the tunes to the vehicle using the suite but all the tuning work is provided from Overkill. A few clicks and key turns and you're tuned in a matter of minutes. The suite is yours to keep ($399 value!)
Important Note for 2015 and newer Tuning:
For 2015 and newer Chryslers, a computer modification is required to become tunable. You must remove the computer from your vehicle (15+ Grand Caravans, the computer is accessed behind the driver's side front bumper and wheel well) and send it to HP Tuners for modification. This is a $250 charge that involves a separate transaction with HP Tuners, it is not through Overkill. There is no way around this!! I wish there was, blame FCA. Once you get back the computer module, Overkill will be able to write Overkill tunes using the now unlocked factory programming from HP Tuners.
See more on this service here https://www.hptuners.com/product/pcm-modification-service/


Overkill HP Tuner Tuning Files - $175
Is your Caravan your 2nd vehicle, already tuning your primary vehicle with HP Tuners? I get a lot of requests saying "I'm tuning my such-n-such and already have HP Tuners, but I don't know where to start on the Caravan, can you help?", the answer is yes I'd be happy to. You can purchase just the tuning service for your van below, you'll get Overkill tunes for 87, 91 and 93/94 octane gasoline plus E85 flex fuel tuning which adds considerable performance to your van, you'll enjoy the 87 octane tune, you'll love if you can fill up on E85. I'll need your factory tuning file emailed to willoverkill@gmail.com after purchase to write your Overkill tune.

*New Product* Seat Rail Extensions - $199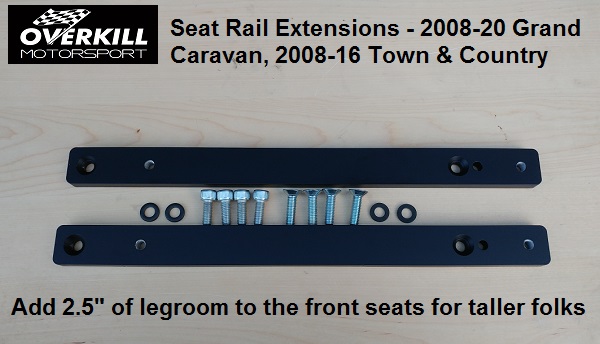 As a Town&Country owner myself and a big tall fella, I could not get comfortable in the driver's seat without some more legroom, so I did something about it and now I can pass along this solution to you. These seat rail extensions are solid 1/2" thick aluminum, they go between the seat rail and subframe and move the mounting position of the seat backwards providing 2.5" more legroom which makes a considerable difference! Sturdy and powdercoated satin black to match the subframe, comes with hardware required and is a straight forward install. Special note however, once installed you won't be able to stow the 2nd row seat behind into the floor, the bin however is still accessible. Can be used on either front seats from 2008-2019 on Caravan and Town&Country (I don't know if they for 17+ Pacifica yet, sorry).

Air Intake System - From $149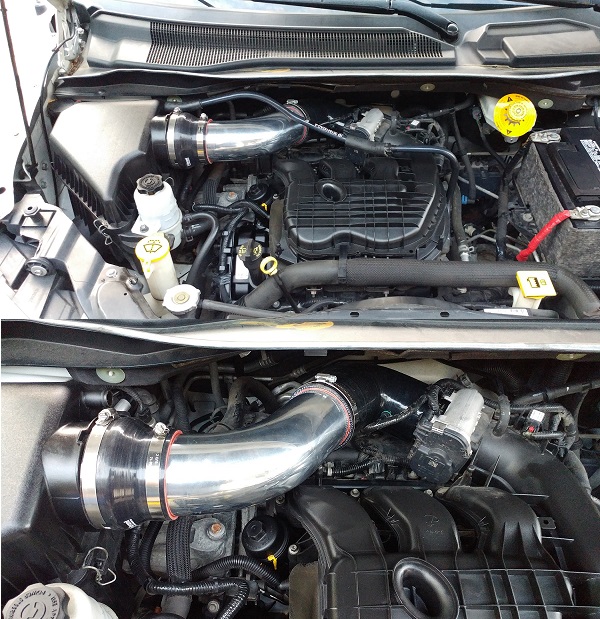 I made up this intake system for my own Town and Country and am happy to replicate it for you. This tubing replaces the factory air resonator and the ribbed accordian tubing with 3.5" silicone and aluminum tubing that provides a noticable improvement in throttle response and power improvement throughout the rpm range, even when coupled with the factory air filter housing. As an open cone, the intake becomes loud and throaty, and does further improve performance, however with the factory filter housing the intake remains fairly quiet which satisfies the van's family hauling duties. You can always add a cone filter later as desired
"Intake as pictured"
comes with tubing between the throttle body and air filter housing, including all clamps and a brand new preinstalled intake temp sensor as they can be tough to remove and easily broken asking you to reuse your factory one so I go to the extent of preinstalling a brand new sensor. Price - $149.
"Add cone air filter"
as it sounds comes with a K&N cone air filter to replace the factory air filter housing. This filter also has a prefilter wrap which extends the filter life and makes cleaning considerably easier. Due to how loud the open cone filter is on this particular van, this option comes with both the K&N cone air filter but also the connections to the factory air filter housing, so you can swap and choose as you desire. Price - $229.


Want some improved performance from your 2011+ Grand Caravan, here's my suggestions:
Overkill Tuning - Not to toot my own horn but toot toot, Overkill tuning truly is your best performance improvement; good gains on 87 octane, terrific gains on E85 ethanol or premium fuel, plus you'll see how it improves how the vehicle drives and can significantly improve transmission life.
180* Thermostat - If you get Overkill tuning, it's highly recommended to get the RIPP 180* thermostat. The factory 203* thermostat keeps the engine running pretty hot, you'll see improved performance with 20-25*F lower engine temps. Use part number 1215-180DEG to get a RIPP thermostat from Summit Racing. Tuning is required to reprogram the cooling fans and turn of the P0128 code. It will extend transmission life as well by running the oil cooler.
E85 39# injectors - If you run E85 ethanol and your engine sees above 5000rpm regularly, get the 39# injector upgrade, you'll see improved performance and engine safety once tuned such as with the Overkill tune.
Air Intake - I sell a tubing system that works with the factory air filter housing, improves performance and throttle response without getting obnoxiously loud, worthwhile!
Ignition Coils - The factory Pentastar ignition coils are surprisingly poor. While I almost never recommend a coil upgrade based on past experience, the RIPP or MSD ignition coils truly see a horsepower improvement.
Lower Intake Manifold - Proper porting or replacing with the newest generation 2017+ lower Pentastar manifold is worth a dyno tested 7-8 wheel horspower. More significant install but straight forward, and the manifold costs around $140, good bang for your buck! See the tech tip below.
Ported or Larger Throttle Body - Leave the throttle body until last, but there's some gains with a factory throttle body that's been half shafted like the Fastman or a true larger throttle body like the Overkill 80mm or BBK, but ensure to avoid the fake "80mm" that's just a ported factory unit.

| | |
| --- | --- |
| | |


Want some easy horsepower? The lower intake manifold from the Pacifica's updated 3.6 Pentastar motor is an upgrade to older Pentastars. It features much smoother transitions and doesn't have the pinch area that we used to port out of the older Pentastar manifolds. Dyno tested, this is worth a quick and easy 10 horsepower improvement.
This manifold can be had using part number 5281803AA in the $130-150 range from a Chrysler parts supplier or your local dealership, just be patient if they're backordered. Since the fuel injectors are in the lower intake manifold, great chance to upgrade to the 39# injectors for E85 use while you're in there!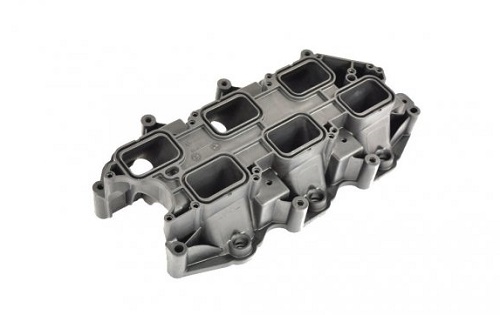 BACK TO PRODUCT LISTINGS