Overkill Tuning - Provides the biggest bang for your buck. Fixes the poor throttle response and the transmission shift pattern change makes the big vehicle feel lighter on its feet.
E85 Flex Fuel (2015-2016) - If you have a 15-16, look at the flex fuel conversion kit offered here to allow E85 to be run, as Overkill tuning on ethanol makes a big difference in power and mid-range torque, even compared to high octane gasoline
Intake System - The C/C trucks is one of very few platform that I support getting an aftermarket intake system right away, as the factory air filter housing is hard to modify to get more airflow to the filter. There's not a lot of "cold air"sources in the engine bay so focus on airflow volume selecting your system
80mm Throttle Body - With the intake system done, look at our 80mm throttle body. The 15-16 C/C intake manifold already has an 80mm inlet and the 17-19 is several mm larger than the small factory throttle body; its flow will be maximized with our throttle body upgrade, better throttle response and top end horsepower.
JacFab Intake Manifold Spacer (2015-2016) - Not a gimmick at all! This intake manifold spacer lengthens each cylinder head intake runner length and increases overall volume, both of which add low-mid rpm torque, great for this pickup platform.
Torque Converter Upgrade - The best way to improve torque is get the LFX revving higher and a higher stall converter gets the job done. Developed for our supercharged platforms, this converter works great for your regular C/C truck with taller tires and other mods. This mod is ambigious where it fits in your mod path, I suggest doing it anytime after an Overkill tune, as the Overkill transmission settings work hand in hand with our torque converter. Available for both 6-speed and 8-speed automatics from Tracy Lewis Performance.
More minor mods - Exhaust work is small gains on the 3.6, you can install the mufflers you like and gain more sound than horsepower.

Overkill is proudly a premier tuner for the GM 3.6 V6 family of engines. I not only tune and modify but I've personally owned several 3.6 vehicles. With specialized 3.6 products available from Overkill, choose the tuning that will support them, from E85 to larger throttle bodies to forced induction! Buying a RIPP, Edelbrock or Mallet supercharger and want PROPER tuning? You're at the right place. Even if you do nothing to your C/C pickup except the tuning, you'll appreciate the Overkill improvement to how your truck performs and drives.

What you'll notice:

Horsepower and torque gains of 15-30 on 91 octane and 10-15 on 87 octane anticipated
Stronger low end torque, less peaky feeling to the power delivery
Improved response and more natural feel from the throttle pedal
Increased fuel mileage possible, 1-3 MPG gains possible and will depend on your driving style
Fully rewritten transmission shift points will upshift and downshift at better times and won't bog the vehicle down. Cannot overstate how the vehicle will feel lighter and easier to drive. This is one of the most common complaints on the new Colorado/Canyon, you'll love an overkill tuned transmission!
Tuning For All Aftermarket Intakes including with larger MAF sensors
Tuning for Tire Size changes
Tuning available for RIPP/Mallet/Edelbrock Supercharger Kits, Overkill is a 3.6 Forced Induction tuning specialist!



What you'll get with your purchase:

Overkill 91/93 octane tune
Overkill 87 octane tune
Tuning support for datalogging and custom revisions



Why get an Overkill tune versus the competition?

Specialized in the 3.6 motor. From revised cam phasing, fully reconstructing spark timing tables and fully revised throttle calibration, an Overkill tune is more comprehensive than what you'll get at your local dyno shop. Our tuning includes comprehensive peformance calibrations on both regular and premium gasoline, and on E85 Ethanol; our competitors commonly don't offer 87 octane performance tuning.
Datalogging. You'll get your Overkill tunes but it doesn't stop there. You can scan with our handheld while driving and send that data for review and tune updates, to get a tune that's more customized for your vehicle. Our competitors commonly offer this service for extra fees or not at all
Support for your mods. Not only are we the only company with an E85 Flex Fuel conversion kit or a larger 80mm throttle body kit, but we also have the right tuning to ensure you get the most from them! Our competitors typically offer a preset tune meant for 100% factory unmodified vehicles only

HP Tuners
Ė HP Tuners works on all model years. It requires a windows based laptop computer or tablet with USB port to interface with the vehicle inside the vehicle. Youíll use the software to read the factory tuning and upload Overkill tuning, along with take driving scans. Overkill tuning can support all our modifications including the supercharger systems and including 2017+ transmission support through HP Tuners.
EFI Live Autocal
Ė Autocal works on all model years. Youíll need a windows based personal computer with usb port to transfer files to and from the Autocal however the Autocal works autonomously within the vehicle so you donít need anything but the handheld to read or write tunes or do a driving scan. 2017+ owners can receive engine tunes through Autocal. Given that easier use in the vehicle and the lower pricepoint, itís a popular option.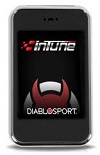 If you have a 2013-2015 ATS and already have a Diablosport device for tuning, I can provide Overkill tuning for Diablosport. Overkill tune files are provided through email which can then be uploaded to your Diablo device and flashed into your ATS just like the Diablo preloaded tunes. Purchase price will include several Overkill tunes plus tune revisions based on your driving scans. Keep in mind that Overkill cannot tune for bigger modifications like camshafts, superchargers etc but for basic bolt on modifications, no problem through Diablosport's custom tuning suite! Once purchased, you'll need to pull off the "backup" and "last tune written" files off of your Diablosport device's drive and email them to willoverkill@gmail.com.



| | |
| --- | --- |
| | |

| | |
| --- | --- |
| | |

| | |
| --- | --- |
| | |