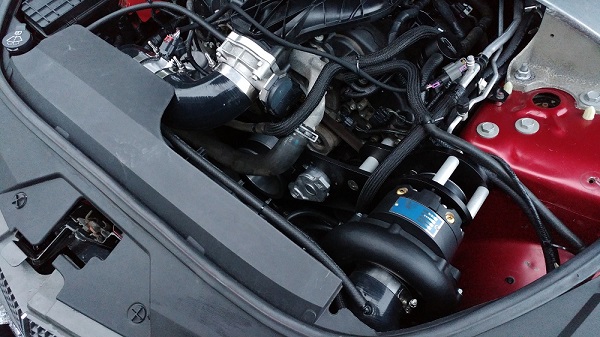 CTS owners rejoice, our Vortech based supercharger system is now available for the 2nd generation model Cadillac CTS with Direct Injection V6 engines. This page is specifically for the 2012-2013 CTS 3.6 Direct Injection V6, code named "LFX". All the CTS supercharger kits are very similar but have slightly different options, so ensure you're on the right page. If you have a 2010 to 2013 model year Cadillac CTS with the 3.0 Direct Injection V6, verified by the 8th digit of your VIN being an "E" in 2010, "Y" in 11 and a "5" in 2012-13, you're on the right page for your vehicle!
The Overkill Vortech supercharger solves the problem of wanting more power out of your Cadillac CTS V6 that you own and enjoy. With our system, you can bolt on the horsepower of today's showroom turbo V6 CTS to the CTS currently in your driveway. We've been supercharging the GM V6 DI engine for years on the Camaro platform and proven the performance and reliabilityof the Overkill supercharger system design.
Base kits will pump a mild 8-9 psi into the motor, producing 400-425 horsepower with the potential to make over 600 horsepower if you want to add our optional add ons. Simple installation with no cutting, sawing or fabrication, a professional can install in 6-8 hours, with a weekend being more than sufficient for a DIY installer. No existing or additional modifications are required for installing this system, it comes with everything required on an otherwise factory vehicle, but check below for suggestions on what you can add to improve upon this sytem.
Here's several main features included in the Overkill supercharger kit, and their benefits:
Vortech V3 Supercharger - Self contained oiling system (no oil lines connect to the engine), efficient supercharger, supports up to 16psi on the 3.6
Overkill's exclusive mounting plate system - Bolts to existing engine mounting points, CNC machined and anodized to maintain great appearance
Overkill's exclusive independent drive belt system - CNC aluminum pulleys, OEM quality belt tensioner, 8 rib belt provides reliable performance, doesn't impact factory belt operation
Full Intercooler system - Mishimoto brand intercooler, Silicone and aluminum bead rolled tubing, stainless T-Bolt clamps, provides consistent performance in all weather conditions, top quality components for reliability
Tial 50mm Blow Off Valve - Specifically specced for supercharger use, controls supercharger boost at cruise, great sound, top quality component
Overkill Tuning with HP Tuners suite - A professional remote tuning service ensures you don't need to seek a separate tuning shop, using the most well known tuning suite on the market
Tracy Lewis Signature Series catch can - Best performing catch can on market, separates oil vapors to ensure clean engine and intercooler, Overkill exclusive features, prefabricated lines for easy install, emission compliant (no atmospheric venting)
Supporting Items including boost specific AC Delco spark plugs, top quality Amsoil air filter with hydrophobic wrap, CNC machined aluminum MAF housing, new power steering oil reservoir and cooler kit, aluminum throttle body spacer (for Tial vacuum source) and more to make the kit installation as simple as possible.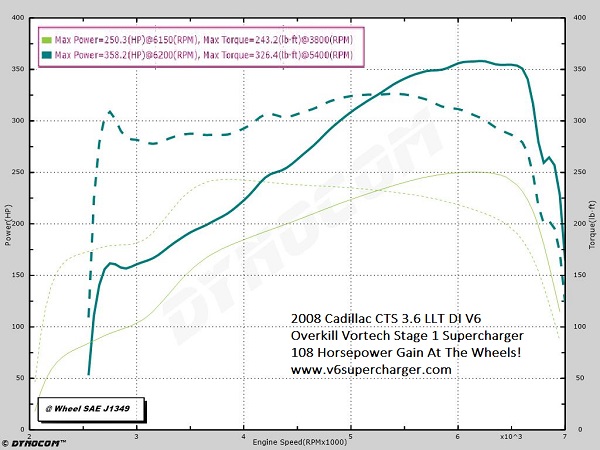 AWD kits are now available! Kits include specific intercooler tubing and a few accessories. The factory washer bottle must be removed to fit the intercooler tubing, the kits come with the D3PE washer bottle relocation kit. There's no additional charge to the AWD kits despite the extra parts required, you're welcome!

Stage 1 Kit Information
Our base kits come set up with 8-9psi of boost. They can be installed on a completely factory 3.0 V6 and see a 100 horsepower gain on a chassis dyno. You do not need any modifications on your vehicle to install Stage 1, comes with everything you need. Aftermarket exhaust work is beneficial but not required. On my own personal 2010 CTS 3.0, I run a base kit with all the parts you'll receive, and absolutely no other modifications, and I love it.

Stage 2 Kit Information - $899
Our Stage 2 kit provides with more boost and the required fuel system modification to support it. A high flow fuel tank fuel pump replaces the factory V6 fuel pump and will provide sufficient fuel flow to the engine to increase boost to 10-11psi using the Stage 2 supercharger pulley. On 2012-13 models, larger fuel injectors replace the factory injectors for an additional fueling upgrade and additional boost in power.
Stage 2 is very popular and there's no reason not to get it with your supercharger, unless you don't wish to undertake the installation of the components
The fuel tank must be dropped for pump installation, and the fuel injectors can be installed without removing the cylinder heads with a little grinding on the exterior head casting for clearance. Our Stage 2 kit on the increases power by 30-60 wheel horsepower over the base kit and is a significant upgrade in power for those who are able and willing to do the more indepth installations!
Methanol Injection - $649
Want to go beyond our Stage kit upgrades? Extra cooling supply is required to run more boost and running methanol injection can help. Methanol spray will help cool the incoming air charge and it will also increase the octane levels inside the engine. It also has the added benefit of cleaning the backside of the intake valves!
The Overkill kit is so simple we've named it the SMI - Simple Methanol Injection kit. A top quality pump and top quality components will use the windshield washer fluid bottle and aside from mounting the pump the installation is very easy, with the spray nozzle preinstalled into a new elbow for the throttle body connection, and a wiring harness that requires a few inline connector connections but no cutting and crimping. The system activates at 2-3psi, there are no boost controllers to mess with or worry of failure. The pump is compatible with 100% methanol, we recommend a minimum of 50/50 mixture with distilled water, you can get premixed fluid from several methanol injection suppliers or pure methanol is available at many home improvement stores.
Use this injection system to reduce existing knock retard or to run a smaller supercharger pulley, we recommend the 3.2" pulley if you have Stage 2 which will produce 12-13psi at-near sea level altitude.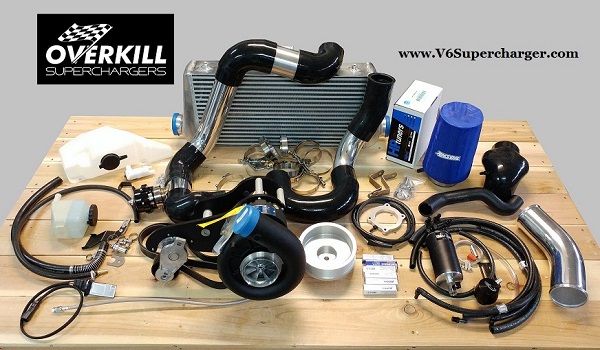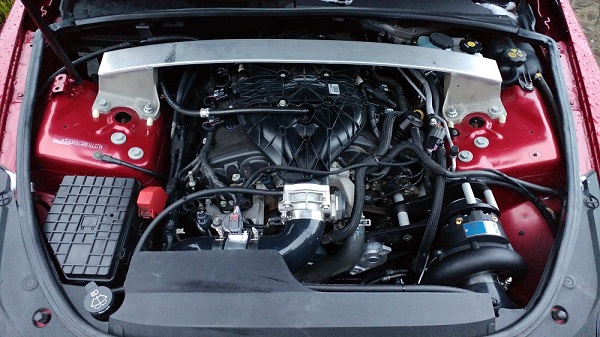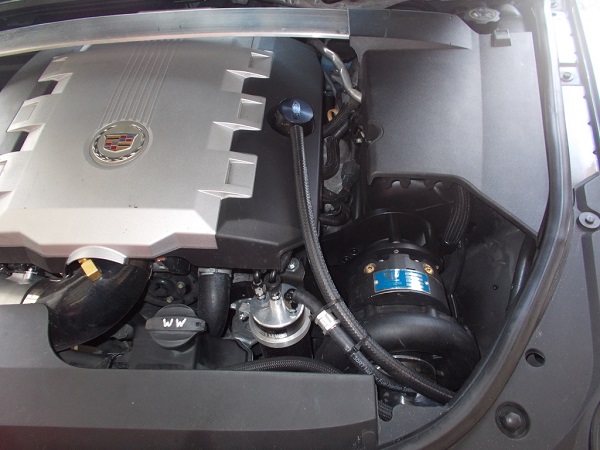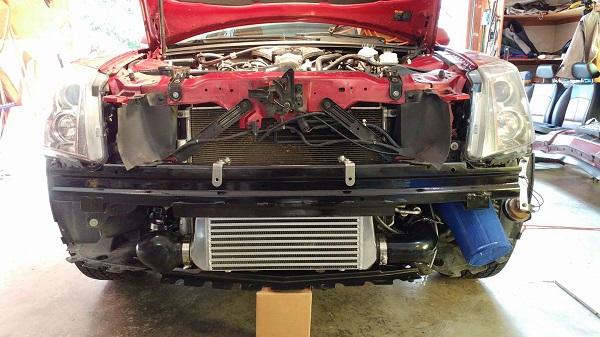 Question: What Power Gains Are Expected?
Answer:
On the 3.0 DI engines, with our base kits at 8psi, power is improved 100-125 horsepower at the engine, producing 400-425 estimated. With our chassis dyno, factory 3.6s dyno 250-260 wheel horsepower, with their appropriate 20% powertrain losses, while our base kits dyno 350-370 wheel horsepower, a 100-120 horsepower gain. See above for a dyno graph, an example of a base kit dynoed before and after on the same dyno on a 2008 CTS 3.6 LLT, a 108 wheel horsepower gain, LFX will be similar.
Question: Do I Need To Do Anything To The Car First Before Installing?
Answer:
Everything that's needed to install the supercharger is included in the supercharger kit. On Overkill's personal 2010 CTS V6, I have no other modifications done to the vehicle, only what is included in the kit, so no you don't need to first do an exhaust system or anything drastic. That said, there are some recommendations. First, if you have higher mileage, consider doing a full set of ignition coils, as the factory coils have been known to wear out and their proper performance will be of greater importance with the supercharger kit; you can search for "D515C" on ebay, amazon or rock auto and should be able to get a full set of AC Delco coils for $200-225. Second is get yourself a replacement serpentine belt for the accessory system if you're higher mileage; while not impossible to change after the supercharger install, much easier to do it now before the install. Lastly is you should be all up to date on your servicing, including changing your transmission oil and differential oil following "severe" service intervals, which typically call for replacement every 50k miles. For your engine oil, it is very highly recommended that you use synthetic oil if you're not already.
Question: How Reliable Is This Setup?
Answer:
The 3.6 engine has proven itself durable on a supercharged setup. We've been supercharging the 3.6 for over 2 years and know the limits of boost, fuel capacity, ideal air/fuel mixture, spark timing etc, to build durable and lasting setups. The supercharger system is also proven reliable; we've engineered durable custom components and matched them with top quality off-the-shelf components when required. Aside from oil changes on the Vortech, our goal is to have you install this system and enjoy it without the need for constant attention to any component.
Question: How Does The Kit Install?
Answer:
The kit is a truly bolt on installation. The Vortech head unit bolts to our mounting plate system, the mounting plate system bolts to existing fastening points on the engine, the crank pulley slip fits and bolts infront of the factory pulley, the intercooler system bolts behind the front bumper cover to the crash bar by drilling and tapping new bolt holes (a drill bit and tap are included), and our piping runs through the engine bay and bumper area from the Vortech to the intercooler and back to the engine. Nothing needs to be permanently modified, we include new replacement items rather than asking for old ones to be modified, we've taken care to provide an easy and enjoyable installation. A professional mechanic can install this kit in 6-8 hours typically, and a competent amateur mechanic can install within a weekend.
Click this link to view the installation instructions
Question: Why not buy a V instead?
Answer:
To be clear, we're not targetting the power offered by a "V2" (2nd generation 2009-13 CTS-V with supercharged V8), they're an awesome machine, however you do have to pay for them. Whenever we calculate, we come up with $15,000-20,000 to trade an equivalent V6 model for a V2. This supercharger kit solves the problem of wanting more power on your own vehicle, not having to go and find someone elses to buy instead.


Want to see what the installation is like? Click here for PDF installation instructions

Independent Belt System
One of the things we wanted to ensure as part of our design was an independent supercharger belt system. Rather than using the factory OEM accessory belt, our system uses its own supercharger belt and leaves the factory belt completely intact.
We do this by first installing our new crankshaft pulley. Removing the crankshaft bolt allows you to slide the new pulley as an insert into the factory pulley, and then secure with the bolt. The new pulley indexes into the spokes of the OEM pulley so it is locked into place and cannot slip.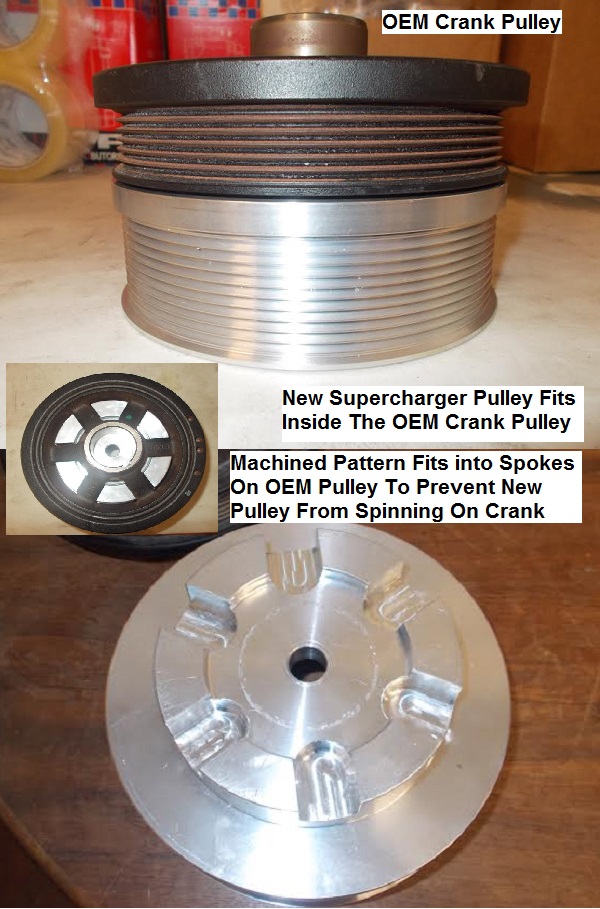 Rather than using the 6-rib factory belt, a wider 8-rib belt will reduce belt slip issues as we start to get smaller and smaller on the pulleys. We can do this because we are not limited using the OEM accessory belt, this can only be accomplished with a dedicated supercharger belt.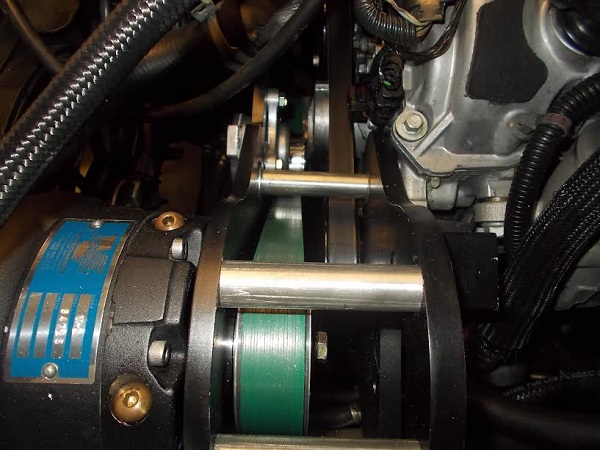 Front Mount Intercooler And Components
Our intercooler system is made of top quality components. Silicone tubing is 5-ply and fibre reinforced, aluminum tubing is powdercoated and bead rolled on the ends, clamps are made in the USA stainless steel T-Bolt, a 50mm Tial blow off valve that has the capacity to vent supercharger boost, and the intercooler is an all aluminum Mishimoto unit.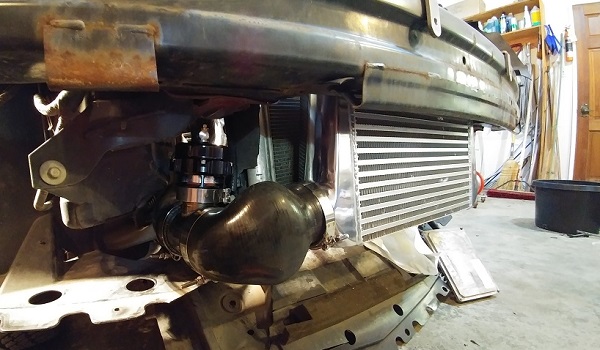 Supercharger Specific Catch Can System
Our Catch Can System included with each supercharger system is set up specifically to perform with forced induction. Unlike a generic catch-can which connects between the intake manifold and engine on the "dirty side" of the PCV system only, ours connects to both sides of the PCV and provides two suction sources for the dirty side crankcase. When the intake manifold becomes pressurized, the catch can looses suction from the manifold, and the crankcase can become pressurized with boost pressure; our catch can uses a check valve to close and prevent boost from pressurizing the catch can, and a secondary suction line connected right before the supercharger inlet actually uses the vacuum created by the supercharger to continue to draw air from the crankcase. As an extra backup, a clean side separator attached to the oil filler cap separates and prevents oil vapors flowing down the clean side line into the intake path. The entire system means that oil will stay out of the supercharger inlet, out of the intake manifold, out of the intercooler, and reduces blowby at the piston rings, all of which improves engine safety, supercharger lifespan, and overall performance.