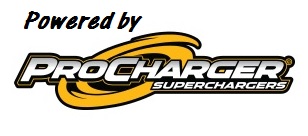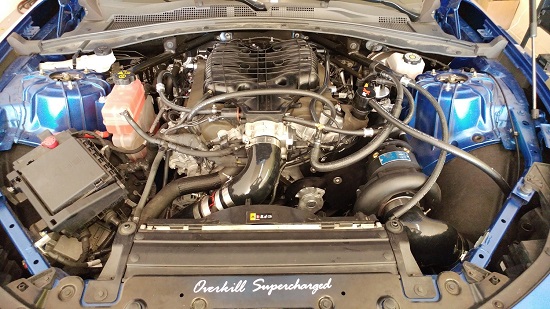 Welcome to the Overkill supercharger system for your 2016 and newer Camaro V6. As a GM V6 specialist, Overkill was the first to supercharge the LGX 3.6 engine back in January 2017 and is proud to power the fastest 6th generation Camaro V6!
This system allows you to make V8-like horsepower with your 3.6 V6. Stage 1 kits will typically provide gains of 100-125 horsepower and unlike other companies Overkill has upgrade paths to a reliable 500+ horsepower. This system is 100% bolt on installation you can do in a weekend. You are not required to have any other modifications on your vehicle. Every requirement to install a supercharger on your Camaro V6 is included in this kit, including going above the normal expectation with an oil catch can system and a custom tuning service.
All Kits include the following components and features:
Procharger Supercharger unit - P1SC model for Stages 1 and 2, D1SC for Stage 3, self contained oiling system (no oil lines connect to the engine), D-Series supports up to 16psi on the 3.6
Overkill 8-rib pulley system - unique mounting brackets use existing engine point attachments to mount the Procharger, a new independent crank pulley interlocks with the factory pulley and runs a dedicated 8-rib belt for the supercharger that doesn't interfere with the factory accessory belt
Full Intercooler system - Air-air intercooler, blow off valve, custom machined MAF housing and full silicone/aluminum tubing with Tbolt clamps, top quality components.
Overkill tuning with HP Tuners - each kit optionally comes with an HP Tuner suite and custom tuning support for yourself or the installation/tuning shop of your choice. It's HIGHLY suggested to purchase an AEM 30-0334 air/fuel gauge if you'll be tuning exclusively with Overkill through email.
Catch can system - separates oil vapors in the PCV system, set up to ensure proper operation while in boost, helps keep oil residue out of the supercharger system and intercooler
Many accessories such as full Intake system with K&N air filter, new AC Delco spark plugs designed for boost, new MAP sensor that reads boost, a full complement of parts required for installation such as MAF wiring extension harness, throttle body spacer to provide engine vacuum source, prefabricated vacuum lines for the catch can including OEM connection fittings at the engine, oil for several oil changes for the Procharger.
Important to note: This kit will require modifications to vehicles with the 1LE track package, see the Questions and Answers section for more details
New for September 2020 - Switch to Procharger!
Overkill is excited to announce the switch to Procharger head units for this supercharger system. Along with improved performance for all kits, you can anticipate high horsepower potential from the new Stage 3 kit with a large D-Series Procharger head unit. Read below to understand the difference in Stage kits and what might be right for you!


**Updated February 2021**
Stage 1
- 8 psi - 360-390 wheel horsepower anticipated (factory 245-260 wheel/chassis dyno horsepower). The base Stage 1 kit is extremely popular, it'll bump up performance on a completely factory engine and requires no fuel system upgrades. Upgrades to the exhaust system are recommended but not required, 91 octane or higher pump gasoline is required. Stage 1 uses a P1SC Procharger that's designed to build mid-range boost fast to improve torque and also provide high rpm horsepower gains.
Stage 2
- 10-11 psi - 390-420 wheel horsepower anticipated. Stage 2 ontop of the base Stage 1 adds:
In-tank Fuel Pump Upgrade
Larger Fuel Injectors
Smaller supercharger pulley
Stage 2 adds the fuel system upgrades of Stage 3 while maintaining the P series Procharger. Stage 2 provides a fuel injector upgrade to go with a fuel tank fuel pump upgrade to provide the fuel system to support an increase in boost to 10-11psi with a smaller supercharger pulley. Exhaust work is now highly suggested, as is finding 93-94 octane pump gas when possible. While pushing more boost, this is still a very comfortable reliable range for a 3.6 engine.
Stage 3
- 10-12psi - 410-450 wheel horsepower anticipated. Stage 3 ontop of the base Stage 1 adds:
D-Series Procharger supercharger unit
In-tank Fuel Pump Upgrade
Larger Fuel Injectors
Stage 3 is the big upgrade to a D1SC higher output Procharger that will make a minimum of 10-11psi and can support up to 18psi on built motors. Included are all the fuel system upgrades from Stage 2 as well, the fuel pump and fuel injectors. Not only will the Stage 3 provide a taller ceiling for making power beyond these Stage kits with further upgrades, but the D series will also improve horsepower in the 10-12psi range by using a large pulley and not requiring as much horsepower from the engine to be driven vs the P series. Stage 3 is ideal for those that will go beyond the Stage kit components with extras like water/methanol injection and additional modifications to run more boost pressure.
*Special note* - The D-series upgrade is ONLY available at this price when purchasing the Stage 3 kit on the original upfront purchase. Upgrading your Procharger unit down the road is available but at a much higher pricepoint, so if you think you'll want this upgrade, now's the best time to consider it!


Update April 1, 2021: Thank you all for your orders this spring. At this time Overkill will stop accepting new orders for a couple of weeks to focus on fulfilling current orders and avoid overly long fulfillment times. If you're interested in a supercharger kit, please monitor this page or email Will at willoverkill@gmail.com for an update on when you should place an order. Again thank you to all who've made this a very busy time at Overkill, look forward to seeing your vehicles running this supercharger kit!
**March 2021 Update - With ongoing R&D, the parts cost to Overkill on the Stage 2 upgrade has been reduced around $200 and that savings is now passed on to you as the Stage kits are both reduced in price $200!


Want to see what the installation is like? Click here for PDF installation instructions
This kit can be bolted on by a good experienced amateur mechanic in a weekend. Anticipate a professional shop quoting around 10-12 hours for installation at their shop fee, based on experience and feedback from customers.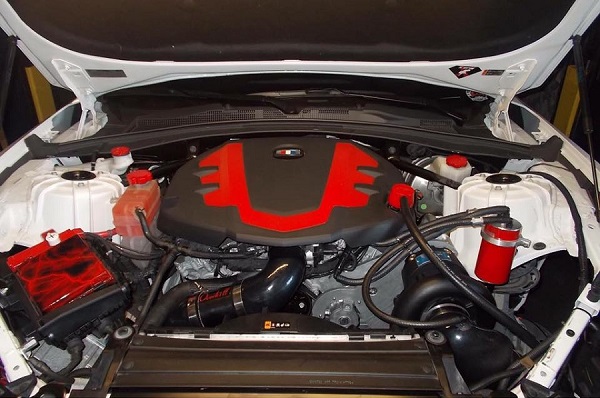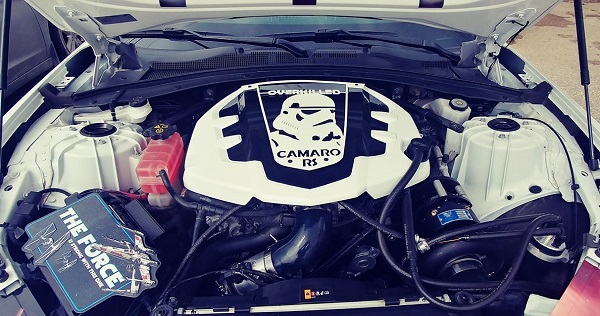 Stage 1 Dyno below shows a 104 wheel horsepower gain over 262 wheel horsepower factory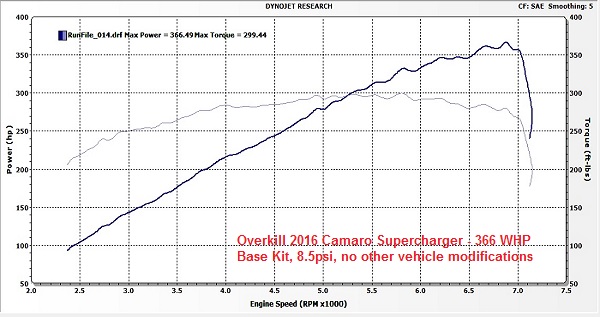 Stage 2 Dyno below (same vehicle as above) shows 43 wheel horsepower gain over Stage 1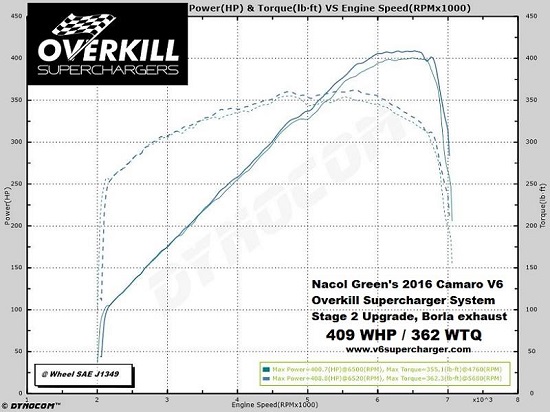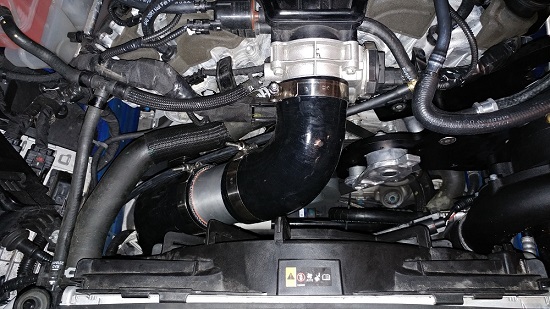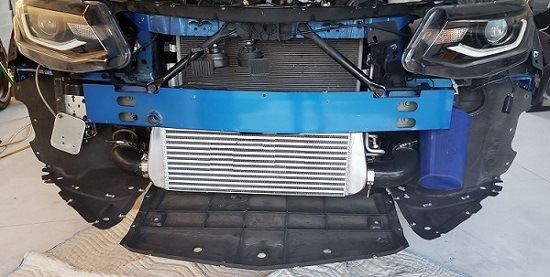 Watch Ben's 2016 Camaro V6 equipped with an Overkill Supercharger run 11.2 @ 125mph with a factory 3.6 engine!
Watch Davis' 2016 Camaro V6 equipped with a Stage 2 kit run 11.8


Q: How does the Overkill kit compare to the competition?
Answer:Here's some key areas we differ and excel...
Better Tuning - Overkill provides custom tuning for your vehicle, while others offer a prepackaged tune option only.
Independent Drive Belt - One of the biggest differences! Overkill uses an independent wider 8-rib drive belt that doesn't interfere with the factory accessory belt's operation, both competitors integrate into the factory 6-rib belt. The independent belt is more durable in the long run, true factory supercharger systems use a separate belt.
Larger intercooler - Overkill's air/air intercooler is 1152 sq inch core, competitor front mount is 630 sq inch per the website, nearly HALF the size in cooling capacity. The top mount uses a shallow air/water intercooler to save space. Better intercooling means better performance in hotter climates and more power potential.
Catch can - Overkill includes one, they don't! A catch can greatly reduces issues from oil coating your intercooler and impacting its operation, along with the normal catch can benefits to a Direct Injection engine and its intake valves.
More Horsepower/Upgrade Paths - Don't be swept away by face-value advertised dyno results, see what customers really dyno. Overkill's advertised horsepower is numbers the majority of our customers WILL achieve in full street trim. Our Stage upgrade kits are unique to the market and will deliver the potential for 500+ horsepower reliably and realistically. The D-series Stage 3 upgrade provides a supercharger unit capable of 30% more airflow than the competitors.
Question: Do I Need To Do Anything To The Car First Before Installing?
Answer: You don't need to have any preinstalled modifications for Stage 1, it's recommended to do some exhaust work for Stage 2 and 3 such as looking at the ARH downpipes, and consider doing an epoxy filled intake manifold from JacFab to maximize the supercharger gains.
One important suggestion is you should be all up to date on your servicing, including changing your transmission oil and differential oil following "severe" service intervals, which typically call for replacement every 45k miles. For your engine oil, it is very highly recommended that you use synthetic oil if you're not already, Amsoil Signature Series or Pennzoil Platinum Ultra continue to rate the best. You're absolutely 100% required to run 91 octane gasoline or more.


Question: How hard is it to install?
Answer: This is a straight forward installation; lots of loosening and tightening bolts, lots of paying attention to detail, very little fabrication. All of the work is done either from the top of the engine bay or in the front bumper area, nothing on your back under the vehicle. A professional shop will typically quote 10-12 hours to install, a good weekend in the driveway for experienced DIY installers. Click the link above to view the installation instructions to get an idea of how it goes together.


Question: Will this kit fit 1LE track package vehicles?
Answer: The 1LE package uses an oil cooler attached to the front of the engine that will require removal, and you'll need to cut and loop the cooler lines to bypass the cooler on your own. In addition, the extra radiator coolers in the fenderwells interfere with the intercooler tubing and will require removal, and you'll need to pick up some non-1LE radiator hoses to bypass.


Question: How Reliable Is This Setup?
Answer:
The 3.6 engine historically has proven itself durable on a supercharged setup. We've been supercharging the 3.6 since 2016 and know the limits of boost, fuel capacity, ideal air/fuel mixture, spark timing etc, to build durable and lasting setups. The supercharger system is also proven reliable; we've engineered durable custom components and matched them with top quality off-the-shelf components when required. Aside from oil changes on the Procharger, our goal is to have you install this system and enjoy it without the need for constant attention to any component. You can anticipate being able to daily drive the setup.
Question: I Already Have A Catch Can, Can I Buy This Kit Without One?
Answer:
The system's catch can will be included regardless. You can continue to use your existing catch can at your own discretion, provided you connect the can using the supplied lines in the manner described in the installation instructions. The goal is to keep oil residue out of the supercharger system, so if you use a can other than what's provided in the kit, check the outlet lines from the can for oil residue to ensure it's performing competently.


Independent Belt System
One of the most important design elements is an independent supercharger belt system. Rather than using the factory OEM accessory belt, the Overkill system uses its own supercharger belt and leaves the factory belt completely intact. The new piggyback crank pulley indexes into the spokes of the OEM pulley so it is locked into place and cannot slip. It provides a wider 8-rib belt for the supercharger pulley to reduce the chance of belt slip. The supercharger, if ever needed, can also be easily disabled without having to affect the main accessory belt system.
Large Front Mount Intercooler
One item that Overkill decided to include standard rather than have as an upgrade is the largest intercooler that could fit in front of the radiator. It is important to understand that all intercoolers are a flow restriction to some extent, and their size plays an important role in cooling and flow capabilities. This air to air intercooler uses a 24 inch long core (side to side) and 4 inch deep; this is longer and thicker than what used to be the standard for a Camaro supercharger kit. The longer the airflow stays in the heat exchanger, the better the cooling. The extra thickness provides more air passages which improves flow capability, which will make the supercharger boost more efficient at reaching the engine.
Catch Can System
Most other supercharger systems for other vehicles don't provide a catch can. It's an essential component to run a catch can on these styles of supercharger systems, to keep oil out of the supercharger system as well as the engine. On other systems, Will Overkill has literally witnessed engine oil being blow out of the blow off valve; this is oil that will be coating the internals of the supercharger, intercooler and its piping. The catch can system provided will catch the majority of this oil, keeping the intercooler clean inside and perform to its capability. In addition, the catch can system is set up to continuously evacuate the crankcase with vacuum, rather than operate on the presumption that there will be positive crankcase pressure when the intake manifold pressurizes with boost. Furthermore the system is a closed loop operation, there is no atmospheric venting within the system to relieve boost pressure, the system is designed to contain the PCV system to the engine and intake stream.

Purchasing Agreement
By purchasing and installing this supercharger kit, you the buyer understand and agree to the following:
Buyer assumes all risks associated with adding an aftermarket performance part of this significance to your vehicle, including but not limited to the increased acceleration rates, potential for higher road speeds, the increased risk of mechanical wear and failure of existing components on your vehicle. No warranty for your vehicle is expressed or implied.
The warranty on the Procharger head unit is limited to the terms of the manufacturer's warranty for 1 year from its construction (ordered at the time of your purchase). Warranty on other components of your Overkill supercharger kit is provided for 1 year from date of purchase against manufacture defects and is limited to defective component only.
This kit has not gone through any official emissions certification including California CARB, and should be considered for offroad use only.
The quoted estimated horsepower gains on this page are based on truthful and documented achievements from customer vehicles but no guaranteed level of performance gain is stated or implied for each individual case.
Buyer understands the installation steps and requisite mechanical skill required to install the kit, and accepts inclusive on this that there can be instances where some fabrication or modification beyond the stated instructions is required.
Buyer understands the tuning process required for this kit. A computer calibration change is required for this supercharger kit to be operational and the kit must be fully tuned to your specific vehicle to achieve its best results. The HP Tuner suite will allow you the buyer to interact with Overkill for both of these services, it's effectiveness is reliant in part on the buyer's active participation in the tuning process. For best results, Overkill requests you purchase an AEM 30-0334 wideband air/fuel meter or inquire about a loaner. Alternatively, you the buyer can choose to seek 3rd party tuning for this kit, and determine whether an HP Tuner suite is required or not during initial purchase. Whether purchased with or without an HP Tuner suite Overkill will provide an initial calibration change tune to your 3rd party tuner/installation shop upon request.
If purchasing from the United States, this kit will cross the border from Canada and may be subject to fees assessed by the US government and/or UPS that you will need to pay to receive the packages. The most common fee we see is around $28. This is not a charge from Overkill.