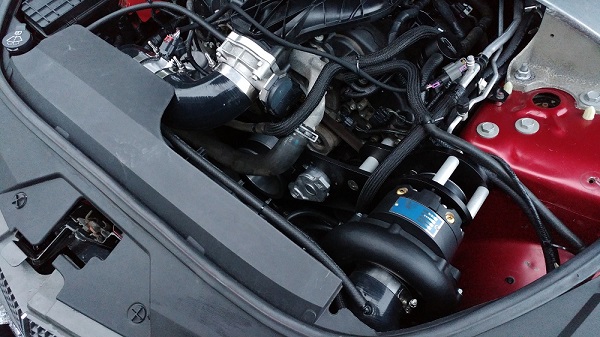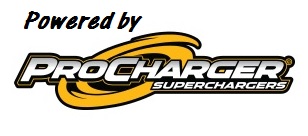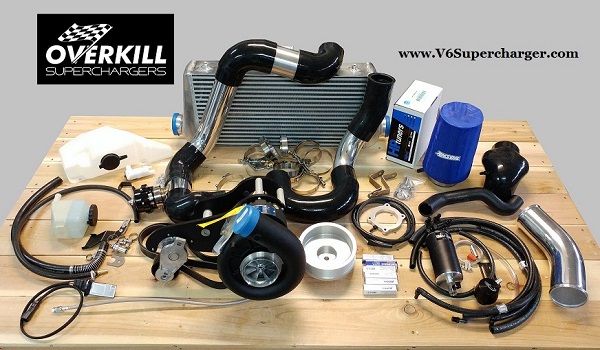 Welcome to the Overkill supercharger system for your 2008 to 2013 Cadillac CTS V6. There's a lot of information packaged into this page so keep scrolling down for more information.
Cadillac owners rejoice, our Procharger based supercharger system is now available for the 2nd generation model Cadillac CTS with Direct Injection V6 engines.
The Overkill Procharger supercharger solves the question of wanting more power out of your CTS V6 but how do you get past the "Buy a V" nonsense, you want to add power to YOUR car; now you can bolt on up to 200+ horsepower on your V6 with the Overkill kit and its Stage upgrades. Supercharging 3.6 Camaros for years, Overkill purchased the red Cadillac CTS you see pictured to develop this kit for the CTS platform, for you to enjoy!
This system is a bolt on installation with no permanent modifications to your vehicle and 100% reversible. You are not required to have any other modifications on your vehicle for the Stage 1 kit and all Stages are designed to work with a factory 3.6 engine. Every item to install the supercharger on your CTS V6 is included in this kit, including going above the normal expectation with the catch can system and tuning service, wiring adapters, fabricated brackets etc. What Overkill doesn't fabricate, top quality components are sourced such as a Procharger head unit, Precision blow off valve and K&N air filter.
All kits include the following components and features:
Procharger Supercharger unit - P1SC model for Stages 1 and 2, D1SC for Stage 3, self contained oiling system (no oil lines connect to the engine), D-Series supports up to 16psi on the 3.6
Overkill 8-rib pulley system - unique mounting brackets use existing engine point attachments to mount the Procharger, a new independent crank pulley interlocks with the factory pulley and runs a dedicated 8-rib belt for the supercharger that doesn't interfere with the factory accessory belt
Full Intercooler system - Air-air intercooler, Precision blow off valve, custom machined MAF housing and full silicone/aluminum tubing with Tbolt clamps, top quality components.
Overkill tuning with HP Tuners - each kit comes with an HP Tuner suite and custom tuning support for yourself or the installation/tuning shop of your choice. It's HIGHLY suggested to purchase an AEM 30-0334 air/fuel gauge if you'll be tuning exclusively with Overkill through email.
Catch can system - separates oil vapors in the PCV system, set up to ensure proper operation while in boost, helps keep oil residue out of the supercharger system and intercooler
Many accessories such as full Intake system with K&N air filter, new AC Delco spark plugs designed for boost, new MAP sensor that reads boost (for 2012-15 engines), a full complement of parts required for installation such as MAF wiring extension harness, power steering oil relocation kit, washer fluid bottle relocation kit, throttle body spacer to provide engine vacuum source, prefabricated vacuum lines for the catch can including OEM connection fittings at the engine, oil for several oil changes for the Procharger.
New for September 2020 - Switch to Procharger!
Overkill is excited to announce the switch to Procharger head units for this supercharger system. Along with improved performance for all kits, you can anticipate high horsepower potential from the new Stage 3 kit with a large D-Series Procharger head unit. Read below to understand the difference in Stage kits and what might be right for you!

Update April 1, 2021: Thank you all for your orders this spring. At this time Overkill will stop accepting new orders for a couple of weeks to focus on fulfilling current orders and avoid overly long fulfillment times. If you're interested in a supercharger kit, please monitor this page or email Will at willoverkill@gmail.com for an update on when you should place an order. Again thank you to all who've made this a very busy time at Overkill, look forward to seeing your vehicles running this supercharger kit!


Stage 1
- 8 psi - 350-370 wheel horsepower anticipated (factory 245-260 wheel/chassis dyno horsepower). The base Stage 1 kit is extremely popular, it'll bump up performance on a completely factory engine with no fuel system upgrades, and requires no other modifications. Upgrades to the exhaust system are recommended but not required, 91 octane or higher pump gas is required. Stage 1 uses a P1SC Procharger that's designed to build mid-range boost fast to improve torque and also provide high rpm horsepower gains.
Stage 2
- 10 psi - 370-400 wheel horsepower anticipated. Stage 2 provides an increase in boost to around 10psi on the same P1SC Procharger with a smaller pulley to overdrive, and matches it with the fuel tank fuel pump upgrade required to support it. Exhaust work is now highly suggested, as is finding 93-94 octane pump gas. While pushing more boost, this is still a very comfortable reliable range for a 3.6 engine.
Stage 3
- 10-12psi - 410-450 wheel horsepower anticipated. Stage 3 is the big upgrade to a D1SC higher output Procharger that will make a minimum of 10-11psi and can support up to 16psi on built motors. It will produce more horsepower at the same boost pressure than the P1SC in Stage 2. Fueling upgrades continue with larger fuel injectors for either the LLT or LFX 3.6, and for the LFX 2012-15 also a high pressure fuel pump upgrade. Between the fuel upgrades and larger Procharger, anticipated power increases into the 410-450 wheel horsepower range even at the same boost levels as Stage 2. LFX engines can support full E85 ethanol use in the 10psi range with anticipated power of 425-450 wheel horsepower.
*Special note* - The D-series upgrade is ONLY available at this price when purchasing the Stage 3 kit on the original upfront purchase. Upgrading your Procharger unit down the road is available but at a much higher pricepoint, so if you think you'll want this upgrade, now's the best time to consider it!





Want to see what the installation is like? Click here for PDF installation instructions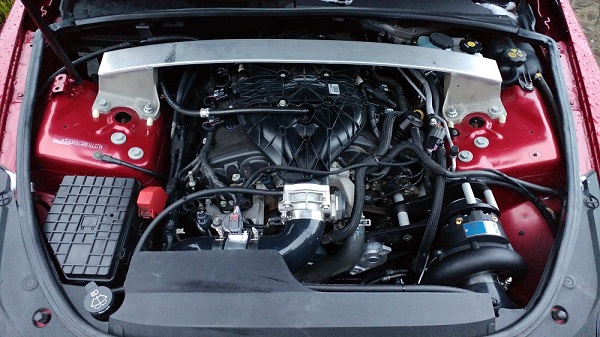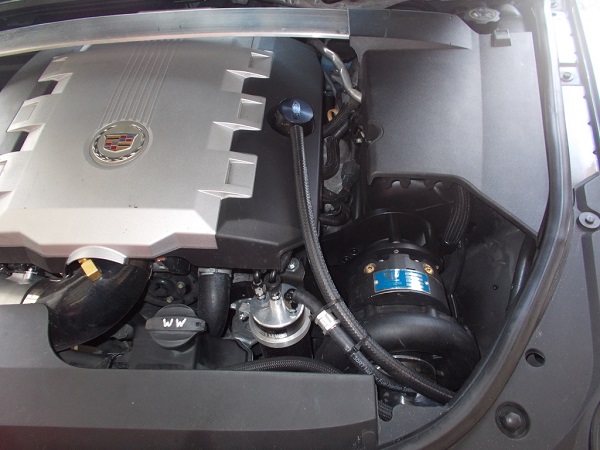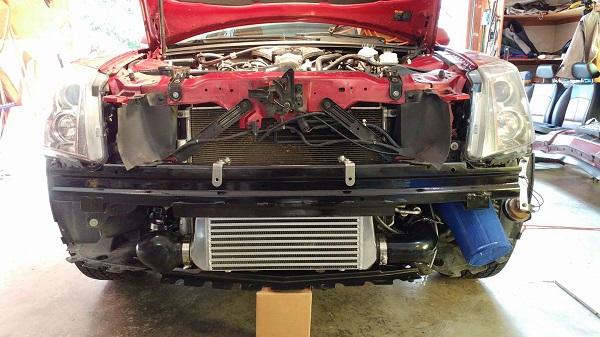 Listen to the unique whir of this style supercharger at idle, it gets some attention!
Watch Corey's Stage 2 Cadillac CTS4 wagon go 0-60mph in 4.4 seconds!


Question: What Power Gains Are Expected?
Answer:
On the V6 DI engines, power is improved on Stage 1 kits 100-125 horsepower at the engine. For example, with our chassis dyno, factory 3.6s dyno 250-260 wheel horsepower, with their appropriate 20% powertrain losses, while our base kits dyno 350-370 wheel horsepower, a 100-120 horsepower gain. See above for a dyno graph, an example of a base kit dynoed before and after on the same dyno on a 2008 CTS 3.6 LLT, a 108 wheel horsepower gain, LFX will be similar.
Question: When Should I Get Stage 3, Do I Really Need The Larger Procharger?
Answer:
Here's the straight shoot on the Stage 3. It'll provide more headroom for those who want to persue more boost pressure than 10-12psi, but that's not the only benefit. With Stage 3, I wanted to incorporate ways of making more horsepower without increasing boost. Yes we can bump up to 14psi and make more power than 10psi, but at greater risk to the engine, so what else can we do. From testing, the larger fuel injectors are worth 20 wheel horsepower; headroom and fuel capacity aside, if I take an Overkill supercharged Stage 2 car and just add the fuel injectors, do the tuning, picks up 20 wheel horsepower, and this isn't voodoo it's just a unique characteristic to Direct Injection engines that you won't see on an LS V8. The Procharger is the same, a supercharger always takes power from the engine to operate, but the larger supercharger will produce 10-12psi with less effort than a smaller one spinning faster, and use less power. All told, even with no other changes and at the same boost levels, you can add 40 wheel horsepower over Stage 2, plus the headroom for more boost, and factor in running E85 for another 30 wheel horsepower etc, and you can see the benefits of Stage 3.
Question: Do I Need To Do Anything To The Car First Before Installing?
Answer:
Everything that's needed to install the supercharger is included in the supercharger kit. Stage 1, no, nothing else NEEDS doing, Stage 2 it's recommended to have exhaust work, Stage 3 is required to have exhaust work and suggested to have other modifications. On Overkill's personal Cadillac 3.6s, I have no other modifications done to the vehicle, only what is included in the Stage 1 kit, and it was plenty enough power for me. If you have higher mileage, consider doing a full set of ignition coils during install is smart, you can search for "D515C" on ebay, amazon or rock auto; you can also get yourself a replacement serpentine belt for the accessory system if you're higher mileage; while not impossible to change after the supercharger install, much easier to do it now before the install. Lastly is you should be all up to date on your servicing, including changing your transmission oil and differential oil following "severe" service intervals, which typically call for replacement every 45k miles. For your engine oil, it is very highly recommended that you use synthetic oil if you're not already. You're absolutely 100% required to run 91 octane gasoline or higher.
Question: How hard is it to install?
Answer:
Straight forward bolt on system. Lots of loosening and tightening bolts, lots of paying attention to detail, very little cutting, very little fabrication. All of the works is done either from the top of the engine bay or in the front bumper area, nothing on your back under the vehicle. A professional shop can install this in 6-8 hours. A good DIYer can get this done in a weekend. Click the link above to view the installation instructions to get an idea of how it goes together.
Question: How Reliable Is This Setup?
Answer:
The 3.6 engine has proven itself durable on a supercharged setup. We've been supercharging the 3.6 since 2016 and know the limits of boost, fuel capacity, ideal air/fuel mixture, spark timing etc, to build durable and lasting setups. The supercharger system is also proven reliable; we've engineered durable custom components and matched them with top quality off-the-shelf components when required. Aside from oil changes on the supercharger, the goal is to have you install this system and enjoy it without the need for constant attention to any component. You can anticipate being able to daily drive the setup.
Question: Is there ANYTHING Special To Know About This Setup?
Answer:
Due to the construction tolerances, Procharger recommends idling the engine and supercharger to warm it up in winter months and keep the rpms below 2500 until the engine is warm.
Question: I Already Have A Catch Can, Can I Buy This Kit Without One?
Answer:
The system's catch can will be included regardless. You can continue to use your existing catch can at your own discretion, provided you connect the can using the supplied lines in the manner described in the installation instructions. The goal is to keep oil residue out of the supercharger system, so if you use a can other than what's provided in the kit, check the outlet lines from the can for oil residue to ensure it's performing competently.


Independent Belt System
One of the things we wanted to ensure as part of our design was an independent supercharger belt system. Rather than using the factory OEM accessory belt, our system uses its own supercharger belt and leaves the factory belt completely intact.
We do this by first installing our new crankshaft pulley. Removing the crankshaft bolt allows you to slide the new pulley as an insert into the factory pulley, and then secure with the bolt. The new pulley indexes into the spokes of the OEM pulley so it is locked into place and cannot slip.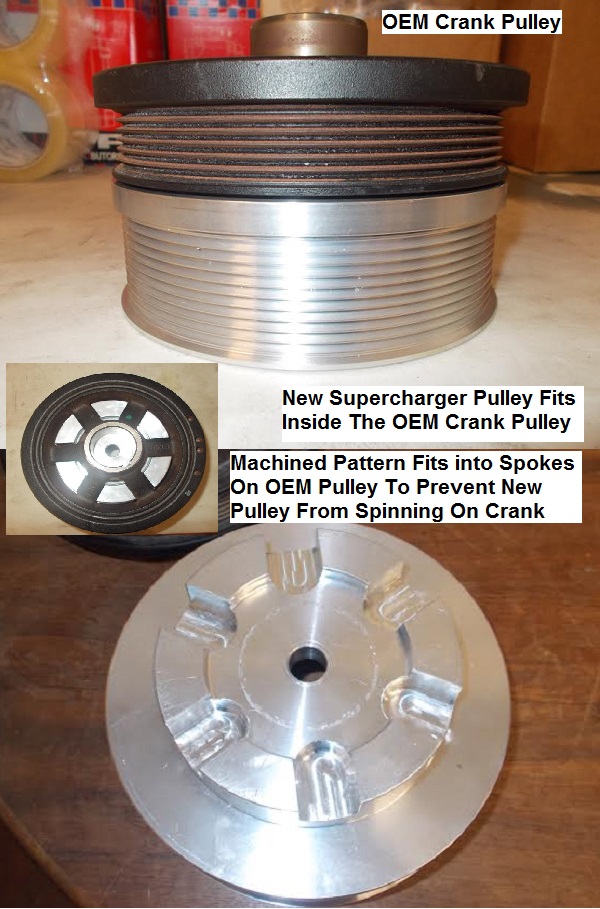 Rather than using the 6-rib factory belt, a wider 8-rib belt will reduce belt slip issues as we start to get smaller and smaller on the pulleys. We can do this because we are not limited using the OEM accessory belt, this can only be accomplished with a dedicated supercharger belt.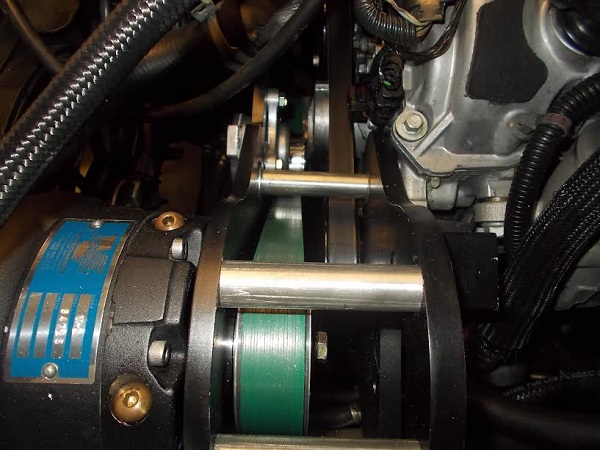 Front Mount Intercooler And Components
Our intercooler system is made of top quality components. Silicone tubing is 5-ply and fibre reinforced, aluminum tubing is powdercoated and bead rolled on the ends, clamps are made in the USA stainless steel T-Bolt, a 50mm Tial blow off valve that has the capacity to vent supercharger boost, and the intercooler is an all aluminum Mishimoto unit.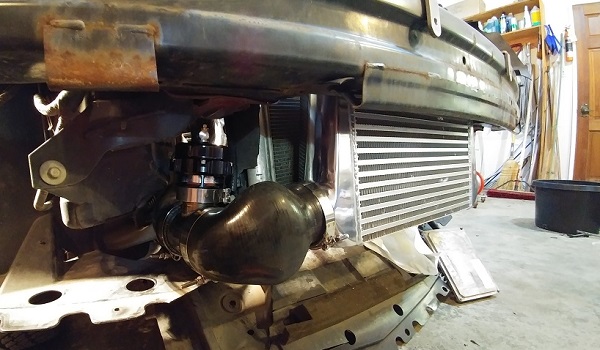 Catch Can System
Our Catch Can System included with each supercharger system is set up specifically to perform with forced induction.When the intake manifold becomes pressurized, the catch can normally looses suction from the manifold, and the crankcase can become pressurized with boost pressure; our catch can uses a check valve to close and prevent boost from pressurizing the catch can, and a secondary suction line connected right before the supercharger inlet actually uses the vacuum created by the supercharger to continue to draw air from the crankcase. The system means that oil will stay out of the supercharger inlet, out of the intake manifold, out of the intercooler, and reduces blowby at the piston rings, all of which improves engine safety, supercharger lifespan, and overall performance.